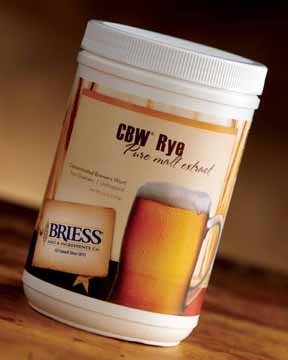 If you haven't brewed a Roggenbier or American Rye Beer before, our newest malt extract offers a good way to get started. Specially formulated using a blend of Base, Rye and Caramel 40 malts, CBW® Rye used alone will make a  delicious, well-balanced Rye Beer with malty, caramel and subtle spicy rye flavors.
There's no need to use other malt extracts or base malts with CBW® Rye. But you can if you want to either develop your own, unique Rye Beer, or to add interest and complexity to just about any extract and all-grain beer style. Like this 5-gallon recipe for an America Lager. "Touch of Rye Lager" combines CBW® Rye with CBW® Pilsen Light LME and DME with a little Caramel Malt 60L.
CBW® Rye delivers light golden color and is 9º Lovibond at 8º Plato. Currently available as LME only. Homebrewers, ask your homebrew shop for it. Homebrew shops, please order through a distributor. Commercial breweries can order directly from Briess or through a distributor.
We take a great deal of pride producing CBW® (Concentrated Brewers Wort) malt extracts. They're 100% pure, unhopped, nondiastatic brewer's grade malt extracts produced in a 500-bbl brewhouse in the U.S.A. They have a high degree of fermentability and FAN. In addition to being used to brew extract beer, they are effective in the all-grain brewhouse for yeast propagation or to adjust gravity, color or flavor. Most styles are available in 3.3-lb retail canisters and bulk 5-gallon pails and 55-gallon drums. DME is packaged in 50-lb bags. For additional product info go here. Styles include:
CBW® Pilsen Light
CBW® Bavarian Wheat
CBW® Golden Light
CBW® Munich
CBW® Rye
CBW® Sparkling Amber
CBW® Traditional Dark
CBW® Porter
CBW® Special Dark