Exciting News! The Falcons have returned to the top of our grain elevator at our Manitowoc location. The birds have been visiting on and off all winter but appear to be settling in now. When they first flew in and stayed for a while, one of the birds was staring directly into the camera for a long time. It was as if he/she was checking everything out to ensure the nest was okay. The day after, there was a lot of preening—so it seems as though the nest has been approved once again. Be sure to check out the Falcon Cam available via link at the top of our Corporate webpage or by clicking here.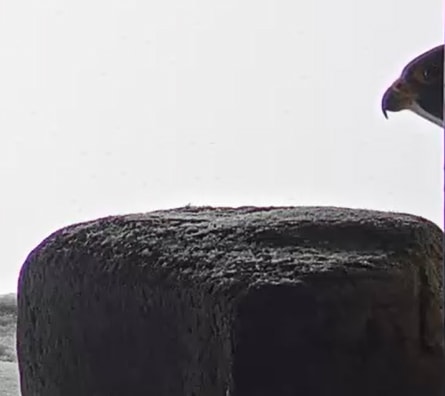 On good intel from our Falcon expert Greg Septon, who began this program in 1986 (click here for the full article), the incubation period for falcons is 33-35 days, and we will be closely watching them over the next several weeks to bring you breaking news.
As a piece of fun trivia, a baby hawk/falcon is called an eyas. Check out the history of the word here. Below is a summary of details about previous babies, our nesting box and the returning falcons (taken from the 2018 WI Falcon Watch Update, page 19). Stay tuned for future announcements!
Manitowoc: Briess Malt & Ingredients Company
(formerly Riverland Ag & Busch Agricultural Resources)
Nesting Details:
Adult Female: "Valcor"
2018 was Valcor's 3rd year at the Briess site and she's returned.
Adult Male: "Bartell"
2018 was Bartell's 2nd year at the Briess site.
Eggs: 4 between April 4 – 11, 2018
Eggs Hatched: 4 between May 12 – 14, 2018
Banded: 3 females & 1 male on June 1, 2018
This site has been active since 1998 producing a total of 67 young (3.19/year).
Did you know that Peregrine Falcons can live up to 17 years in the wild and their wingspan can be 3.3′ to 3.6′? They prey on other birds and bats they catch in mid-flight and have a wide-ranging habitat from shoreline to tundra to deserts. For more cool facts, check out National Geographic and Defenders of Wildlife.