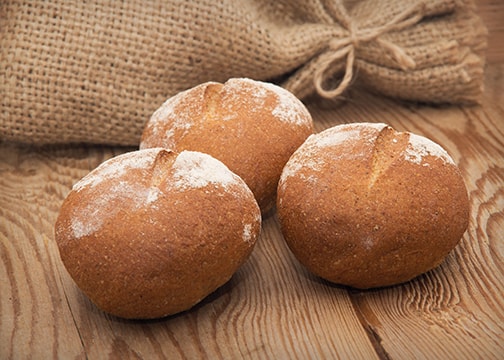 Rye Malt has been gaining popularity with craft brewers for its ability to add depth of flavor to many styles of beer. Did you know it can do the same in dinner rolls? The malting process changes both the characteristics of the rye kernel and its flavor. Less harsh and sweeter than raw rye, it makes for delicious rye dinner rolls that will pair well with comforting fall foods like winter squash soup and corn chowder. If you don't have any in the brewhouse, Briess Rye Malt can be found at many homebrew shops. For this recipe, you don't need much Rye Malt. But you will need a coffee grinder or small mill to grind it into flour.
If these dinner rolls get you in the mood to brew a rye beer, look for recipes at the online Briess Recipe Database. Cheers!
Ingredients
Active Dry Yeast: 2-1/4 tsp
Sugar: 1 tbsp
Butter, Melted: 3 tbsp
Eggs: 1 large
Warm milk (110º F): 1 cup
Salt: 2 tsp
Briess Malted Rye Flour: 3/4 cup
All-Purpose Flour: 2-1/2 cups
Method
Combine yeast, sugar, butter, egg and milk.
In a separate bowl combine salt, malted rye flour and all-purpose flour.
Add dry ingredients to wet. Beat on low 1 minute.
Beat on medium until dough leaves the side of the bowl.
Lightly grease bowl. Form dough into a ball and put in a greased bowl, turning to coat all sides.
Cover bowl and let rise for 1 hour,
Roll dough into a rectangle. Roll rectangle tightly from narrow end.
Cut roll into 1-inch slices. Form each slice into a ball. Place on a parchment paper-lined cookie sheet.
Brush with egg wash and let rise until doubled in size (about 1 hour).
Bake in 350º F oven for 30 minutes.