Briess facilities now comprise the most unique and highly specialized malting operation in North America. Since transforming itself into a specialty malting company, Briess has continuously invested in every aspect of our production capacity in order to better serve our customers. This includes installations and upgrades to specialized processing, drying, and testing equipment. In addition, we've added extensive roasting capacity and custom-built several specialized grain processing plants. Multiple labs are outfitted with industry-standard testing equipment that is managed by our expert staff members.
A 112,500 sq. ft. distribution center opened in 2020 and serves as the hub for warehousing and distribution of our products. It is located in Manitowoc, Wisconsin along Interstate 43 for efficient shipment to customers nationwide.
---
Malthouse ‐ Manitowoc, WI
This flagship facility is located on a 22-acre campus along the Lake Michigan shoreline. Briess acquired the malt plant in 2014 and recommissioned it for production of world-class base and specialty malts. Features include 4.3M bushels of storage, a rail yard for receiving grain, six individual malthouses, upgraded kilning and roasting capability, new automated packaging equipment, robotic palletizing, and fully equipped on-site lab. It is Kosher and USDA organic certified.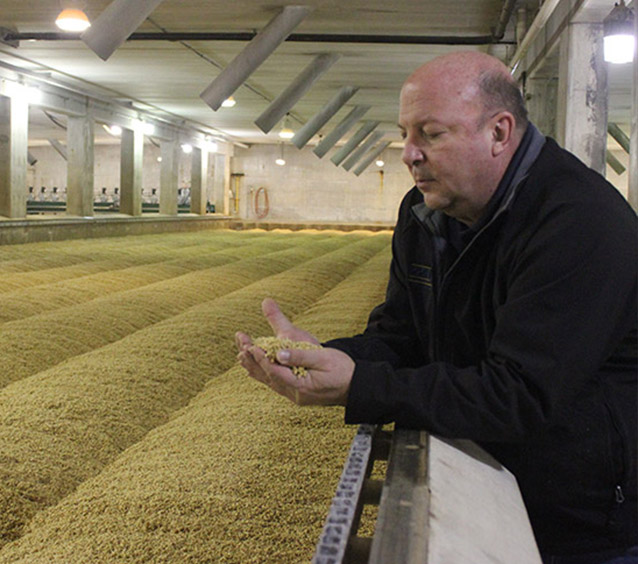 ---
Extract Plant ‐ Chilton, WI
The modern, automated Extract Plant was commissioned in 2001 for the production of brewers and food-grade malt extracts. A dryer was commissioned in 2005 for the production of Malted Milk Powder and dried malt extract, and ongoing upgrades have expanded capacity and capabilities, reduced energy consumption and emissions, and added capability to produce gluten free natural sweeteners. Features include a 500-barrel brewhouse, gentle evaporation, dryer, on-site lab, pilot brewery, and pilot dryers. The facility is certified as an SQF, Kosher, and USDA organic food-grade plant, and licensed as a Grade B processor.
---
Insta Grains® Plant ‐ Chilton, WI
Originally built for the production of brewers flakes in 1990 for the emerging American Craft Beer industry, Insta Grains® now produces a full line of brewers flakes and multiple lines of natural heat-treated, specialty grain ingredients for food and pet food. Capacity of the original plant more than doubled in 2016 with the commissioning of Insta Grains® II. Features include milling, dry blending, bag and tote packaging, robotic palletizer, and on-site lab. The facility is certified as an SQF, Kosher, and USDA organic food-grade plant.
---
Briess Barley Operations ‐ Ralston, WY
Briess is vertically integrated with barley growing operations located in the rich agricultural Bighorn Basin, which offers perfect growing conditions with warm dry summers and irrigation from regional dams. Modern barley processing and storage facilities in Ralston and Powell, Wyoming are supported by over 300 experienced growers in Wyoming and Montana. The operation is capable of processing 4.1M bushels at harvest and storing 2.3M bushels on site. Facilities are serviced by rail lines to connect the barley supply directly to our malt plants in Wisconsin.