Purpose Brewing and Pink Boots Society's FoCo Chapter came together to brew a unique beer, Persimmons of Interest, in October 2019. The recipe included Saison yeast from Funkwerks, C-60 malt from Briess, persimmon purée from Source of Nature, and malted blue corn from Grouse Malt House. Right before Thanksgiving, half of this brew was tapped for holiday enjoyment. The other half was oak-leaf rested and aged in a Chateau Montelena red wine barrel to create Smoeltrekker #078.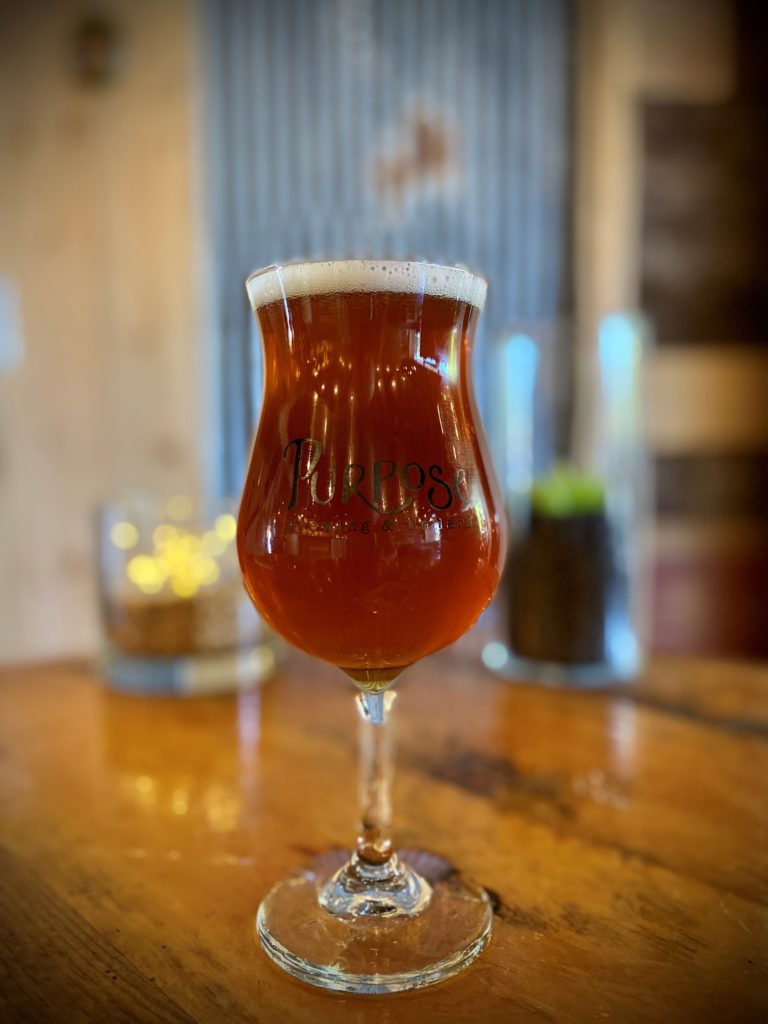 Smoeltrekkers are Purpose Brewing's sour beers that are named after the barrel number, in this case, the 78th barrel to enter their barrel room. Smoeltrekker is Flemish and translates to "pulling a funny face" like when biting into a lemon. A portion of the sales supports the Pink Boots Society and their mission of empowering women in the brewing industry through education. It looks like they had a lot of fun with this collaboration!
Notice the color of the barrel beer from September 2020 (above and below) ─ it's a deep color of deliciousness. The flavors of this barrel-aged version include wood tannin, dry wine, peach, prune, raisins, and caramel.
Peter Bouchaert, owner of Purpose Brewing, (back right) reports "The beer is delicious.  It's almost not sour, as I never inoculated it.  It has huge flavor, from malt, barrel, some of the fruit, and the leaves.  And at 8.1% it has some good body with the malt." If you're in the area, be sure to try this special barrel-aged brew to support the Pink Boots Society!