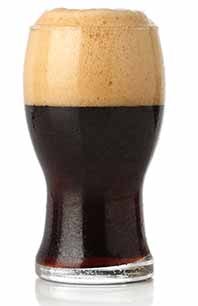 American Black Ale, a style initially brought to the taps in New England as Blackwatch IPA, back in 1994 by Vermont Pub & Brewery, has been one of the most successful new American styles to take hold the last 5 years.
It's been called Black IPA, Cascadian Dark Ale, and India Black Ale. The Brewers Association currently offers a catch-all dark and hoppy category, "American Black Ale," for anything brewed to 35 SRM (black,) and just as hoppy as an IPA (50-70 IBUs.)
Whatever you call it, it's been quick to catch on, and is definitely here to stay. The difficulty in this style is balance. Too much dark malt and the acidity and coffee flavors will cover the hops. Too much hops bitterness, and it tastes like a strange, muddled IPA gone wrong.
The recipe below, Back in Black Ale, could definitely be called a black IPA. Fruity assertive hops, play well against the low astringency of Midnight Wheat. Special Roast, and Caramel 80L complete the package with biscuit and toffee notes, tucked behind the grapefruit and pine of the Warrior, Simcoe and Amarillo hops.
Back in Black Ale
Type: Ale
Style: American Black Ale (Black IPA)
Batch Size: 5 gallons
Recipe Type: All Grain
Recipe Contributed By: Aaron Hyde
Ingredients
11 lbs—Pale Ale Malt
1 lbs—Caramel 10L Malt
0.75 lbs—Caramel 80L Malt
0.75 lbs—Special Roast
0.75 lbs—Midnight Wheat
0.25 lbs—Barley Flakes
1—Whirlfloc Tablet—Last 10 minutes of boil
0.5 oz—Warrior Hops (16% AAU)—60 minutes, full boil
1 oz—Simcoe Hops (16% AAU)—last 20 minutes
1 oz—Amarillo Hops (16% AAU)—last 10 minutes
2.5 oz—Warrior Hops (16% AAU)—0 minutes, after heat is turned off
2 pouches— White Labs WLP002 English Ale Yeast
Procedures
Bring 4.7 gallons of water to 165ºF.
Add to mash tun with crushed grains, mix together, and hold at 152ºF for 1 hour.
Heat 3.75 gallons of 180ºF sparge water in a kettle. Add to mash tun and sparge.
Collect 6 gallons in kettle and bring to a boil.
Once boiling, add bittering hops, .5oz of Warrior hops.
After 40 minutes, add 1oz Simcoe hops.
10 minutes later, add 1oz Amarillo hops and one tablet of Whirlfloc.
After 10 more minutes (60 minutes of boiling) turn off heat, and add 2.5oz Warrior hops.
Remove from heat and cool to 70ºF.
Transfer to primary fermenter.
Pitch two packs of yeast.
Fermentation
Primary Fermentation: 1 week at 70ºF-72ºF
Secondary Fermentation: 2 weeks at 62ºF-68ºF
Fermentation Notes: Force carbonate at 1.5-2.3 volumes, or bottle condition with ¾ cup priming sugar for 3-4 weeks.
Stats
Original Gravity: 1.071
Final Gravity: 1.018
ABV: 7%
IBU: 68