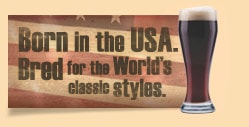 If you're wired to brew a classic beer like a German Pils or Belgian Ale, visit this new webpage.  "Born in the U.S.A., Bred for the world's classic styles" lists traditional beers and the Briess malts you can use to use to brew them true-to-style.
Brewing is all about preference, like using imported malts to brew traditional beer styles. We understand that. But sometimes the imported malts you want simply aren't available. Or you're using locally produced ingredients whenever possible. Or you simply like to use stuff that's "Made in the U.S.A."
That's why we put together this webpage. Brewing traditional styles with Briess malts isn't only possible, it's preferred by many American craft brewers who are doing just that and picking up GABF medals along the way for hitting the style spot on.
Happy traditional-beer-style brewing!