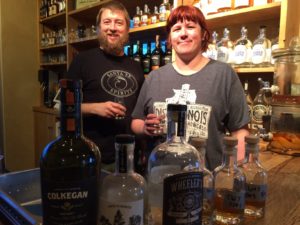 During my recent visit to New Mexico and Nebraska I had the opportunity to meet several talented brewers and distillers. Noya Gilmore, Head Distiller of Santa Fe Spirits, and Gabe Toth, Assistant Distiller recently won a gold medal from the American Distiller's Institute for their single malt whisky, Colkegan, which is made with 100% Briess malt. Colkegan has been earning bragging rights over the last three years, winning 6 awards through out the country and industry.
2015 Editors Choice from Whisky Magazine issue 125
2015 Ultimate Spirits Challenge
2014 Silver Medal in the San Francisco World Spirits Competition
2014 Gold Medal for the Telluride Colorado Distillery Tasting
2013 Breckenridge Craft Spirits Festival – Silver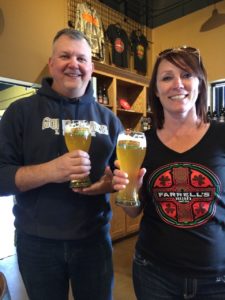 While in Nebraska, I visited longtime Briess customers, Kim and Paul Kavulak, co-founders and owners of Nebraska Brewing Company. Their EOS Hefeweizen is made with 100% Briess malt and has also earned a number of awards over the years. It is a medium to full-bodied beer that is pale to golden in color and is most accurately described as a Bavarian wheat beer. The aroma and flavor of this unfiltered beer is decidedly fruity and spicy evoking tastes and aromas of cloves, nutmeg or sometimes vanilla with banana-like esters. Somewhat sweeter in style with a barely noticeable tartness.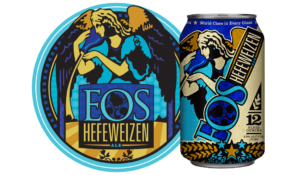 The EOS Hefeweizen has won numerous awards over the last 5 years including:
2010 North American Beer Awards Silver Medal – Bavarian Style Hefeweizen
2010 United States Open Beer Championship Bronze Medal – German Hefeweizen
2010 World Beer Championships Silver Medal – German Hefeweizen
2011 United States Beer Tasting Championship – Regional Champion – Wheat Beer
2011 Great American Beer Festival – Bronze Medal South German-Style Hefeweizen Category
2012 North American Beer Awards Gold Medal – Bavarian Style Hefeweizen
2012 Los Angeles International Commercial Beer Competition Silver Medal – South German Hefeweizen
2012 United States Open Beer Championship – Gold Medal – German Hefeweizen
2013 United States Open Beer Championship – Gold Medal – German Hefeweizen
2013 Los Angeles International Commercial Beer Competition – Bronze Medal – South German Hefeweizen
2013 North American Brewers Association Beer Awards – Silver Medal – Bavarian-Style Hefeweizen
2014 North American Brewers Association Beer Awards – Bronze Medal – Bavarian-Style Hefeweizen
2014 San Diego International Beer – Gold Medal – South German-Style Hefeweizen
2014 AmeriCAN Canned Craft Beer Championship – Bronze Medal –Wheats/Hefeweizens/Wits
2014 Canfest – Bronze Medal – Wheat Beers