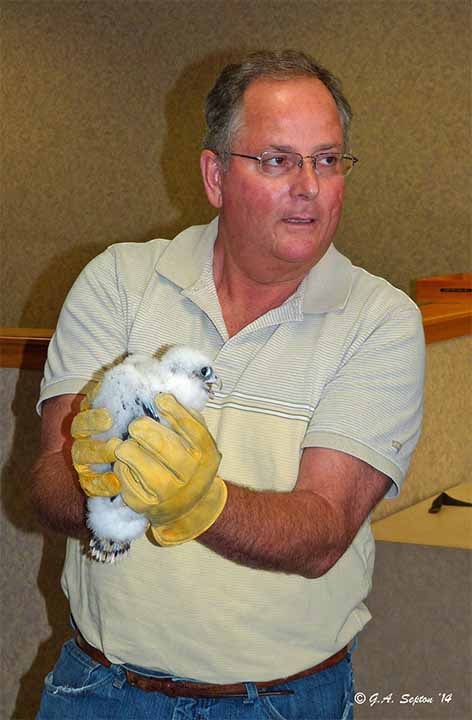 The recent Briess acquisition of a grain handling and storage operation in nearby Manitowoc, WI, came with a bonus—a Peregrine Falcon nest box complete with a pair of these majestic birds and a chick.
The Manitowoc nest box was installed around 1992, according to Greg Septon, who recently banded the chick as part of the Peregrine Falcon Recovery Program. Peregrine Falcons were put on the U.S. Endangered Species list in 1969. In 1972 the use of the pesticide DDT, the main cause for the population decline of these birds, was banned, clearing the path for repopulation efforts. While the Peregrine population had been completely eradicated east of the Mississippi River by the late 1960s, today there are an estimated 1,650 breeding pairs in the U.S. and Canada.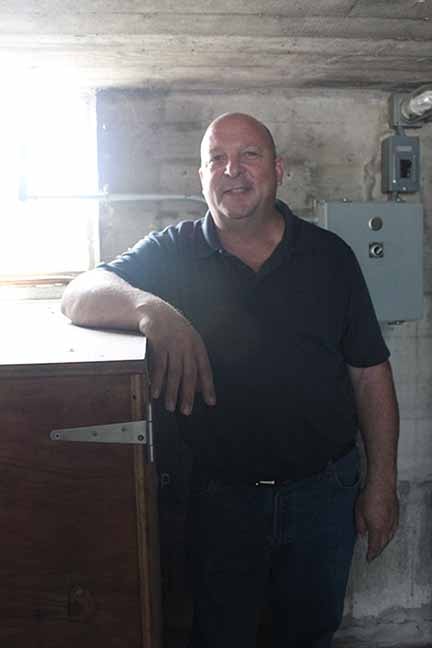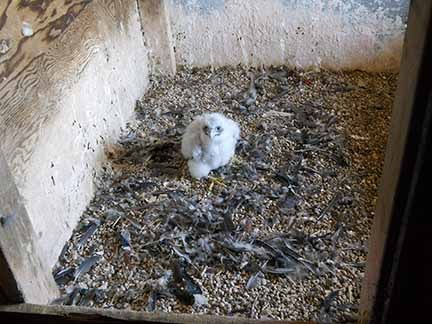 Dave Luckow, veteran ops manager at the Manitowoc operation, said it took awhile for peregrines to locate and use the nest. Greg reported that happened in 1998, and Peregrine Falcons have been nesting there successfully ever since. Since its occupation the site has produced 54 Peregrine Falcons.
1998—3
1999—4
2000—2
2001—4
2002—4
2003—4
2004—5
2005—2
2006—4
2007—5
2008—2
2009—4
2010—3
2011—3
2012—2
2013—2
2014—1
After the banding was complete, Greg sent a thank you to Gordon and Dave about the recovery program. "I want you to know to how important this is to the continued presence of peregrines in Wisconsin. With nearly 90% of Wisconsin's peregrines dependent on human-built structures for their nest sites and corporate environmental stewardship for their continued presence, your site and others like it are crucial to the future of the species."
Manitowoc is located on Lake Michigan, about 35 east of Chilton, WI. Greg reported that a total of 98 young were produced at 32 nest sites in Wisconsin. Fourteen, including the Manitowoc nest site, were along the Lake Michigan shoreline, five along the Fox River, two along the Wisconsin river, two on the Lake Superior shoreline, eight along the Mississippi River and one inland at Madison.
The Wisconsin Peregrine Falcon Recovery Program uses banding and observation efforts to track the birds. In Greg's "Wisconsin Falconwatch – 2013 Nesting Season Report", a number of Peregrines produced at the Manitowoc nest site produced young last year:
"Elmo" was produced in 2006 and paired at a Green Bay, WI, nest site with "Chloe", who was produced in 2010 in Sheboygan, WI. The pair produced three males, "Castle, "Chayton" and "Quicksilver".
"Daryl" was produced in 2003 and paired at a Kaukauna, WI, nest site with "Nora", who was produced in 2005 in Duluth, MN. They produced four males, "Expera", "Haarala", "Miles" and "Sumner".
"Helen" was produced in 2004 and paired in Chicago with an unbanded male named "Mr. M". They produced two young.
"Rueben" was produced in 2003 and paired at a Toronta nest site with "Linn", a female produced in 2007 in Rochester, NY. The pair produced 2 young. Rueben is quite prolific, having produced 15 young since 2005 with two separate females.