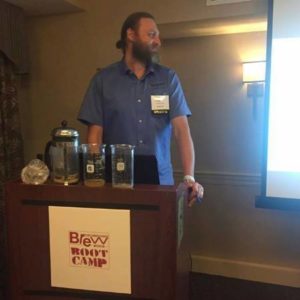 Mark your calendars, and get signed up now! I'll be teaching a course at BYO Boot Camp on Advanced Extract Brewing in Santa Rosa, CA, Friday, February 24th. There are a lot of classes and excellent speakers over the course of two days, just be ready to take a big leap forward in your homebrewing.
If you weren't able to attend the first BYO Boot Camp this past November in Burlington, VT, you won't want to miss the opportunity to learn more than you ever thought you could know about extract brewing this February.
Here's a sample of what we'll discuss:
How Extract is Made
The malting process
A visual tour of an extract plant
Recipe Design
Brewing the best beer possible with extract
Designing extract recipes to style and cloning techniques
Grain Steeping & Mashing Techniques
Mini-Mash, Partial-Mash, Non-Enzymatic Mashing
Why Extract?
The many advantages (there's more than you think!)
The many uses
Sensory of extract and extract beers
Can you taste the difference?
Here's a link to info – https://byo.com/byo-boot-camps/2017-santa-rosa-ca-byo-boot-camp
If you're still not convinced, here's a couple quotes from attendees this past November-
"For me what made it a successful conference was the quality of the speakers, I had Michael Tonsmeire and Aaron Hyde who both really know their material." -Boot Camp Attendee
"Overall a great event. Especially loved the demonstrated expertise of the presenters and the friendliness of the BYO staff." -Boot Camp Attendee
Hope to see you there.
Cheers!
Aaron Hyde
Director of Homebrewing