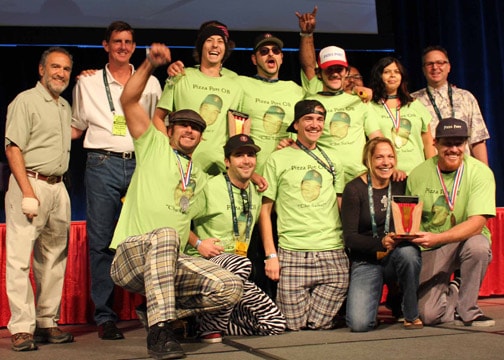 Pizza Port Ocean Beach, San Diego, and Brewer Yiga Miyashiro received the Small Brewpub and Small Brewpub Brewer of the Year award at the 2011 Great American Beer Festival. Briess sponsors the award.
The entire crew at Briess extends a hearty congrats to the Pizza Port Crew, Yiga and all 2011 GABF medal winners!
Pictured from Pizza Port Ocean Beach are (front row, l-r) James Hodges, Gino Fontana, Steve Brown, Gina Marsaglia and and Mike Aubuchon; (back row, l-r) Charlie Papazian (BA), Rich Ellis (Briess), Josh Weinreich, Larry Monasakanian, Travis Bessey, Nate Soroko, Micaela Cano and Dave Richter (Briess). Luke Gaenzle is cleverly hidden behind Josh.