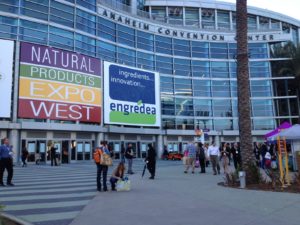 Natural Products Expo West is the largest trade show in the U.S. dedicated to all things natural. Food. Health and beauty aids. Pet food. Supplements. It's all here this weekend at the Anaheim Convention Center, which is filled to overflowing with more than 3,000 exhibitors and 60,000 participants. So, why are we here? You know Briess as a specialty malt supplier, but may not know be aware we also supply natural specialty ingredients to food and beverage manufacturers.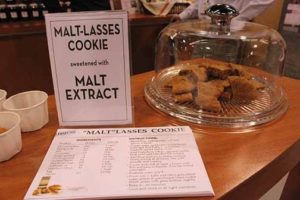 This is about the 10th year in a row we've exhibited here, and this year we're featuring our natural sweeteners. You know them as brewing ingredients, but food companies use them for a natural source of sweetness, flavor and functionality in all kinds of foods. You can too. Here's a recipe for "Malt-lasses Cookies" that our own AIB Certified Baker Judie developed for the show. She replaced all the molasses in molasses cookies with malt extract and they are excellent! Molasses is a natural sweetener, but the malty, caramel flavors in the extract really work in this cookie!
Of course a day's work isn't complete without a craft beer, which was nicely repped in the Beer, Wine and Spirits Marketplace. Jason, regional rep with Sierra Nevada Brewing Co., was pouring Pale Ale, Toledo, Kellerweis and other SNBC brews. I thoroughly enjoyed a Kellerweis while chatting with him.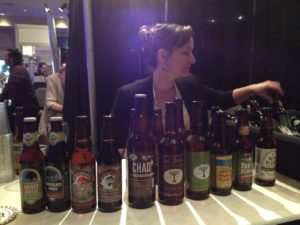 Michelle with Mountain Peoples Wine & Beer Distributing was pouring beers from Bison Brewing, Lakefront Brewery, New Planet, Fishtale Brewery and a few others. The Bison Organic Chocolate Stout I sampled was very good, as was the Fishtale Organic Oatmeal Stout. Then break time was over and it was back to the trade show floor.
Hope you enjoy the cookies. Prost!
Malt-lasses Cookies
All Purpose Flour – 2 cups
Baking Soda – 1 tsp
Salt – 1/4 tspBriess_MaltlassesCookie
Cinnamon – 1 tsp
Ground Ginger – 1 tsp
Ground Cloves – 1/2 tsp
Unsalted Butter – 1/2 cup
Dark Brown Sugar – 1 cup
Safflower Oil – 2 tbsp
CBW® Sparkling Amber Malt liquid extract – 1/3 cup
Egg – 1
Vanilla – 1/2 tsp
Blend flour, baking soda, salt and spices together and set aside. Cream the sugar and room temperature butter until light and fluffy, 1-2 minutes. To the Sparkling Amber, egg and vanill and beat until well blended (no lumps). Slow add the flour, mixing until the batter is smooth and creamy. Form dough into one-inch balls, roll in granulated sugar, place on parchment paper and flatten slightly with the bottom of a glass. Bake 9-10 minutes in at 375º oven. Cool and store in an air tight container.