I paid a visit to the Flying Dog tap room and offices in Denver, CO this past week and was able to check out some of the MANY projects they have going on. The most recent great news for the brewery is winning the First Amendment court battle with the state of Michigan over the "controversial" Raging Bitch IPA label they released at the end of last year for their 20th anniversary. The Michigan Liquor Control board had rejected the label stating it was "detrimental to public health, safety and welfare". Edgy indeed. You can see more on it here.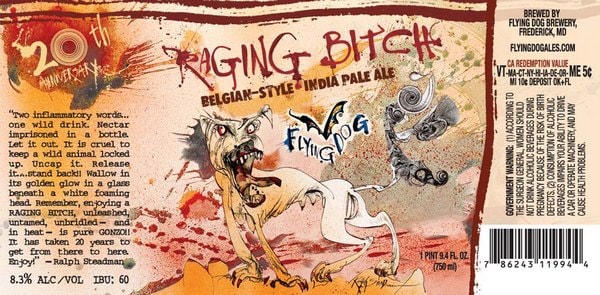 Some of the other cool new beers Flying Dog has coming out of the brewery in Fredrick, MD are a couple of groovy collaboration beers (pretty hot in the industry right now). The first one is a 5.0% abv Belgian-style table beer called Table For Two. This beer was brewed in collaboration with Steve Frazier of the Brewer's Art in Baltimore, MD and has a late kettle addition of honey for a fun fermentable twist.
The other nifty beer coming out of Fredrick is a jointly brewed beer with Chef Bryan Voltaggio (season six of Top Chef runner up) called Backyard Ale, a 7.5% abv amber with a smokey note for summer BBQ's that makes good use of our Briess cherry wood smoked malt! As you can see the crew at Flying Dog is keeping artist in residence Ralph Steadman plenty busy, great new labels!