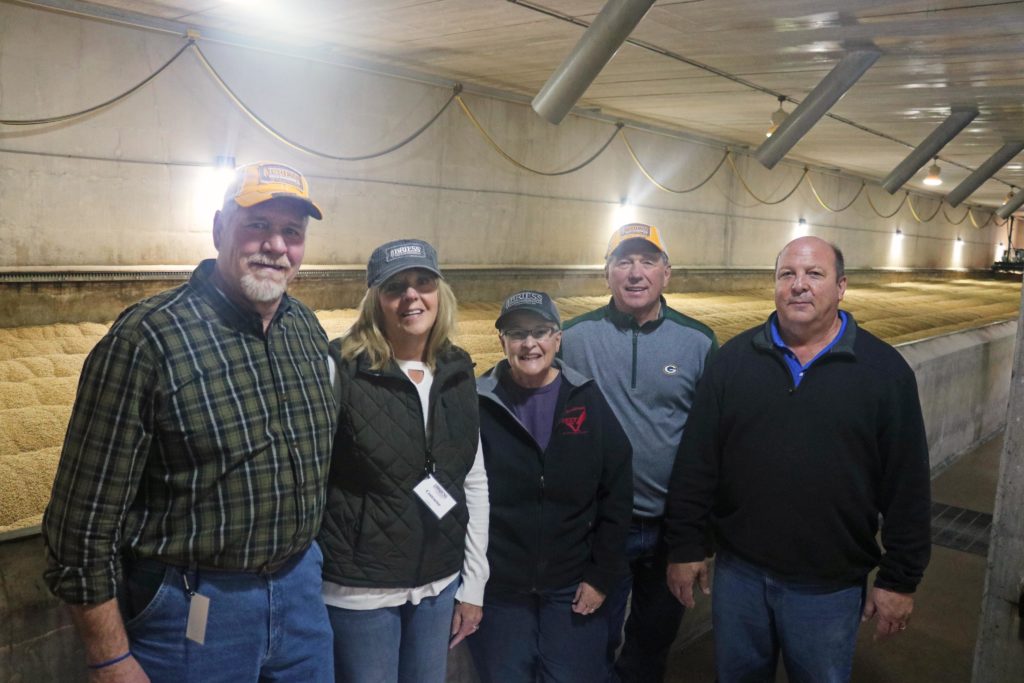 It's always a special treat when we have the opportunity to give Briess barley growers a tour of the malting process and where their barley goes after harvest. Most recently, we welcomed barley growers Gary and Sue Broyles and their agronomist and his wife, Neal and Rae Fehringer, of Montana.
The Broyles and the Fehringer's just so happen to be BIG Green Bay Packers fans. So, when they decided to take a trip to see a Packers game in Green Bay, we welcomed them to the neighborhood with a private tour of our malting facilities in Chilton and Manitowoc.
Gary and Neal are both very familiar with barley, working Montana barley fields for the last few decades. But once the barley leaves the Broyles' trucks at the Briess Ralston [Wyoming] Barley Operations, it is out of sight, out of mind until it fills a cup with malty, liquid goodness.
"It's neat seeing all the different styles and ingredients that can be made with our barley," Gary says. One stop along the tour includes a visit to the Briess Insta Grains® and Insta Grains® II Plants. The group is standing in front of a wall of small vials filled with samples from flaked products to finely ground flour products and everything in between.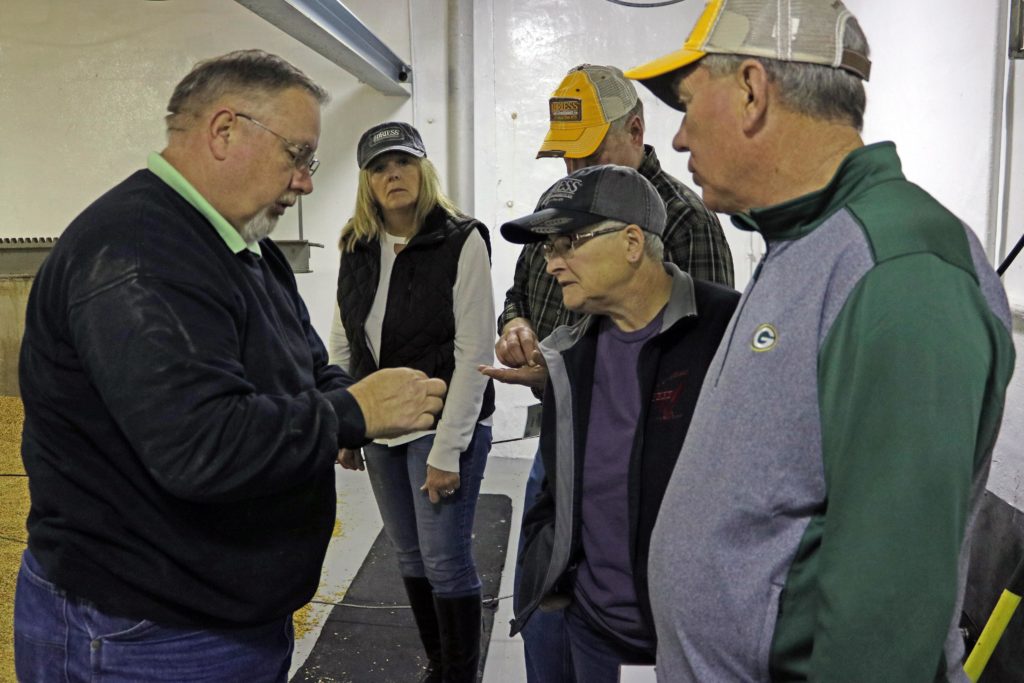 Originally built for the production of brewers flakes in 1990 for the young American Craft Beer industry, the Insta Grains® plant now produces a full line of brewers flakes and multiple lines of natural heat treated, specialty grain ingredients for food and pet food. The capacity of the original plant more than doubled in 2016 with the commissioning of Insta Grains® II. Features in these plants include milling, dry blending, bag and tote packaging, and an on-site lab. The facility is certified as an SQF, Kosher and USDA organic food grade plant.
"We are personally fascinated by all the flavors that can be created using the same raw ingredient and simply varying the processes slightly through a change in heat or time," Gary and Sue remark. The crew looked at the wide variety of malts being produced at both the Chilton Malthouse and Manitowoc Malthouse.
The Chilton Malthouse is home to a double stack kiln and two roasters. Depending on the style of malt being produced, germinated malt will either flow to the kiln to create rich kiln dried specialty malts or move to the roasters to churn robust caramel and chocolate specialty malts.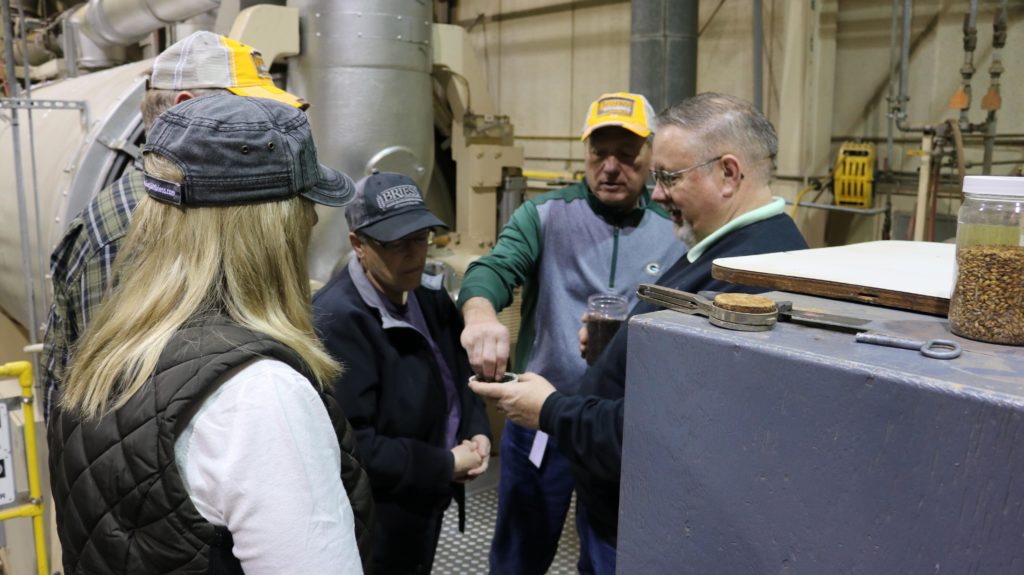 It's always an eye-opener when guest first tour the Chilton Malthouse and then go visit the Manitowoc Operations. For starters, the sheer size difference is impressive and captivating. Manitowoc's largest batch size is almost 7 times the size of Chilton's 60,000-lb batches – WOW! But don't let Manitowoc's volume fool you, Dave Luckow and his team of experienced maltsters churn out a number of specialty kiln dried malts including Goldpils® Vienna, Aromatic Munich, and Bonlander® malts, to name a few. These malts range from rich malty flavors to clean, slightly sweet, nutty biscuit flavors.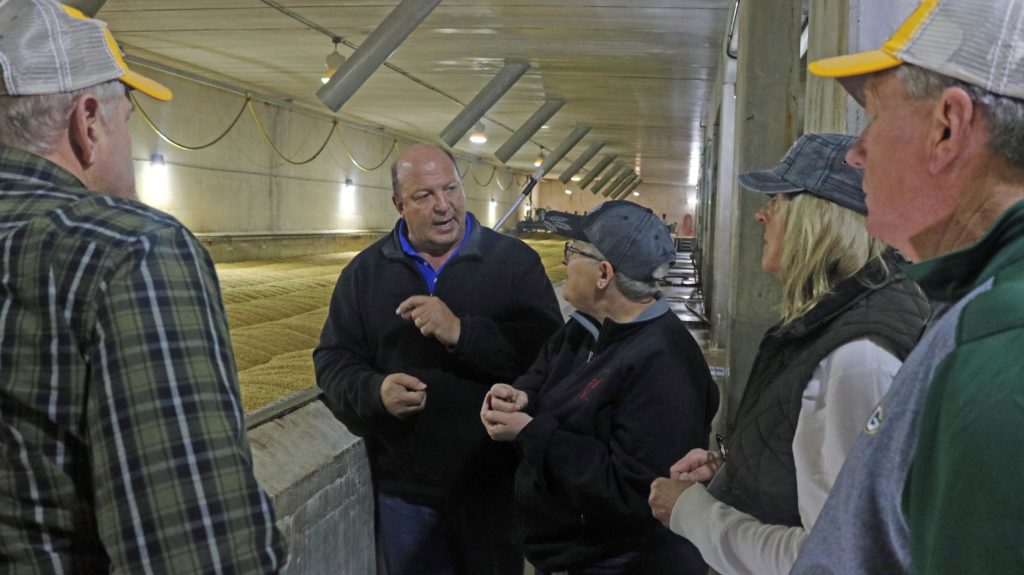 Touring two malthouses, Insta Grains® plants, and the Extract Plant and Brewhouse is always a lot to fit in one day. And while it is a lot to take in, it is certainly rewarding to see the capabilities throughout Briess. For these barley growers from Montana, they enjoy seeing how their barley is handled by systems of gentle conveyance and sophisticated processing equipment.
We would like to give a special thank you to Gary and Sue Broyles and Neal and Rae Fehringer for taking the time during their vacation to Green Bay (in the winter!) to visit us. We enjoyed hosting you all and welcoming you to the Briess facilities. Cheers.