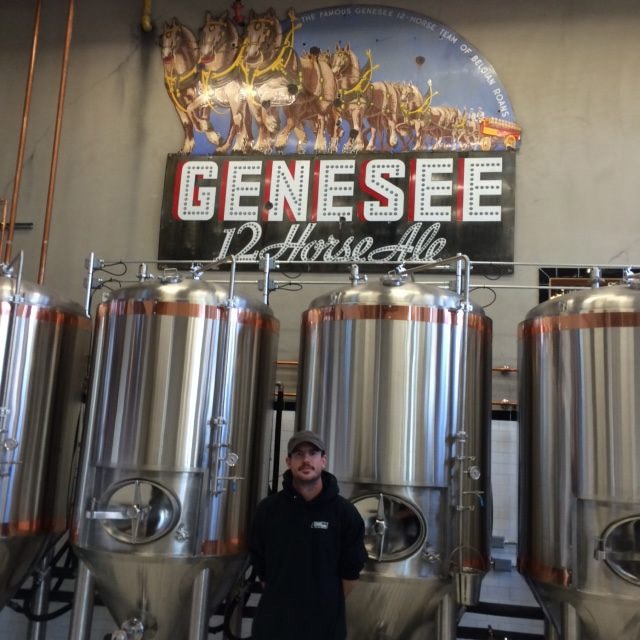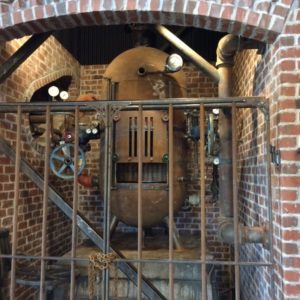 Strap Tank Brewing Co. is a new brewery in Springville, UT, that opened its doors in June of this year. Motorcycle enthusiast, Rick Salisbury erected the brewery next to his Legends Motorcycle Emporium where he keeps several rare vintage motorcycles including a Strap Tank, one of Harley Davidson's earliest models. This unique brewpub is inspired by Rick's passion of collecting, exhibiting, selling and riding vintage motorcycles.
Greeting you at the front door is a replica of the Strap Tank motorcycle. Everywhere you look, antique pieces make up every aspect of the brewery. The bar is comprised of panels of old lockers with old wheel-rim based barstools. The fireplace is built from a rusty looking boiler. The ceiling is artfully laid out with splintered boards with openings that display the rafters high above, giving way to the industrial feel which expose air ducts and pipes.

While there, I had the pleasure of meeting their Head Brewer, Mike Dymowski. An Austin, TX, native Mike is eager to bring a colorful breadth of new beers to the Art City of Utah. He enjoys brewing malty dry beers with a light body, that make for sippable treats in the hot summer months. While Utah has lower ABV requirements, Mike crafts each beer to be balanced and complex, making even the lightest ABV beers bold.
As a new brewery, we are excited to be a large portion of the specialty malt grain bill of Strap Tank's brews. Sgt. Holtz Stout is a delightful beer that offers a roasted coffee flavor with notes of chocolate and toffee. It is surprisingly light and smooth, proving you don't need a heavy dark beer to get rich roasted coffee flavors. Their tap also includes a light, crisp lager called FlatHead, and a red ale with toasted, caramel flavors know as Juneau Red.