After exhibiting at Natural Products Expo West for about the 8th year this past weekend, I can honestly say this huge show is more than just work…like the CBC and NHC BrewExpos, it's an experience.
Expo West—'where doing business just comes naturally'—is a three-day show organizers bill as the world's largest natural, organic and healthy products event. More than 2700 exhibitors filled the Anaheim Convention Center and adjacent hotels, and more than 71,000 people walked the halls eating their way through displays of new and interesting foods. If it's natural, new, trending, innovative or different, it's there. A couple of my faves this year were cricket flour energy bars and craft beer-infused foods. More on that later.
There are also lots of activities—outdoor group yoga and bands, speakers, book signings, fundraising runs and random entertainment like belly dancers and jazz bands. This crowd is high energy!
Briess exhibits to connect with food and bev manufacturers who formulate healthy, natural foods or want clean labels. Briess natural ingredients for food were introduced decades before "natural" was a trend. Now we continually expand that product list with innovative ingredients or new applications for existing ingredients. It's a natural fit with malting for beer, which remains the cornerstone of our business.
Here are my top 10 takeaways.
ONE—Free craft beer! My day was made when I stumbled upon a hosted bar in the middle of the expo floor. There for the asking were two craft beers — Old World Hefeweizen from Bootleggers Brewery of Fullerton, CA, and Anaheim Gold from Anaheim Brewery of, you guessed it, Anaheim. The beers were delightful and broke up the long days on the show floor.
TWO—Beer Kissed™ desserts. Craft beer rules in this line of branded desserts. The CA-based Boujie Baking Co. formulates craft beer into caramel sauces, cookies, caramel popcorn, brownies and peanut brittle. Founder Cassie Forrington wasn't at the booth, but last year craftbeer.com posted a nice article about this craft beer fan and her company. Read it here. Evan and Bailey at the booth said they keep busy developing new products and growing sales on the West Coast. They also direct ship. Of course we had to taste their samples, and they were delightful. Breweries featured in Beer Kissed™ desserts include Lost Coast Brewing Co., Lagunitas Brewing Co., Ninkasi Brewing Co., New Belgium Brewing Co., Mad River Brewing Co., Six Rivers Brewery, Bison Brewing, Redwood Curtain Brewing Co. and Deschutes Brewing Co..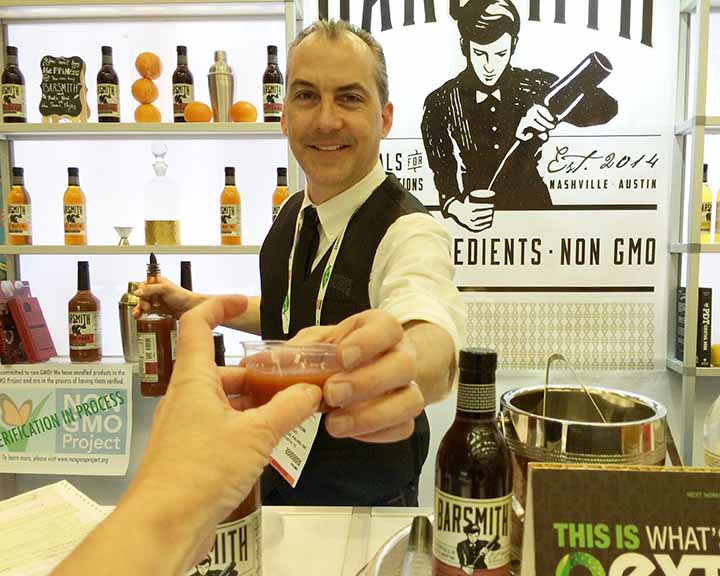 THREE—Barsmith™ Cocktail Mixes. How could I not love this company? Scott is one of three owners and an avid homebrewer getting ready to fire up a new 15-gallon brewery, plus this year the company rolled out reformulated cocktail mixes that are now natural and non-GMO verified. Read more about it here. I tasted both margarita versions. Yum! Good luck to these three on their line of "good for you cocktail mixes", and to Scott who's bound to be brewing some good homebrew based on the Barsmith™ samples I tasted.
FOUR—Ricky's Lucky Nuts. I confess it was the name that caught my attention. Turns out some of you may already be familiar with these snacks. Matthew at the booth said they already sell to some brewpubs and craft distilleries, And yes there is a Ricky, who is a chef by trade.
FIVE—More edgy names and phrases. Trying to stand out in a crowded category is tough. Clever names and phrases can help a quality product make it. Expo West provided no shortage of products that fit that description.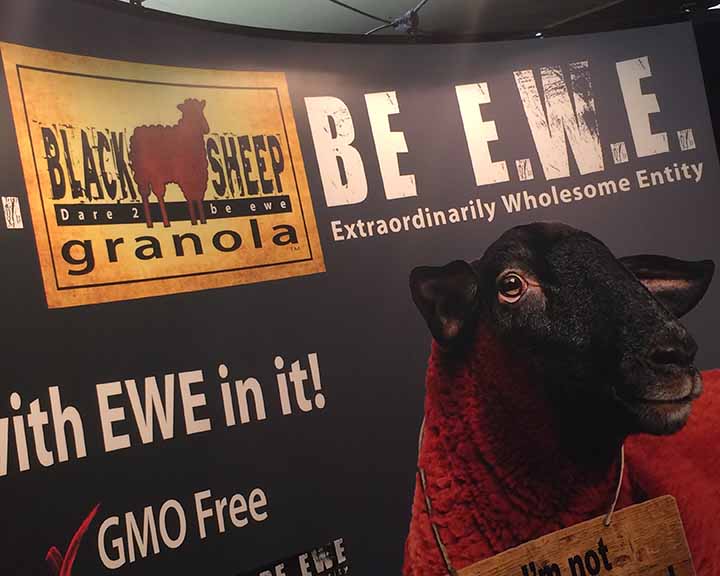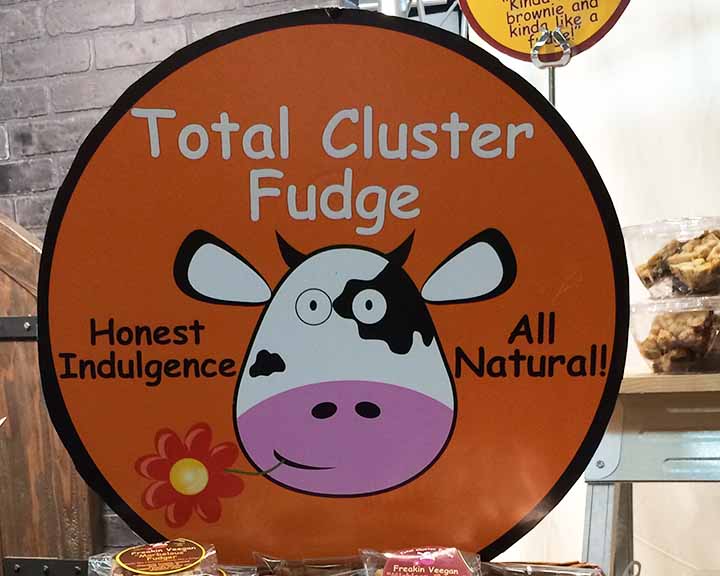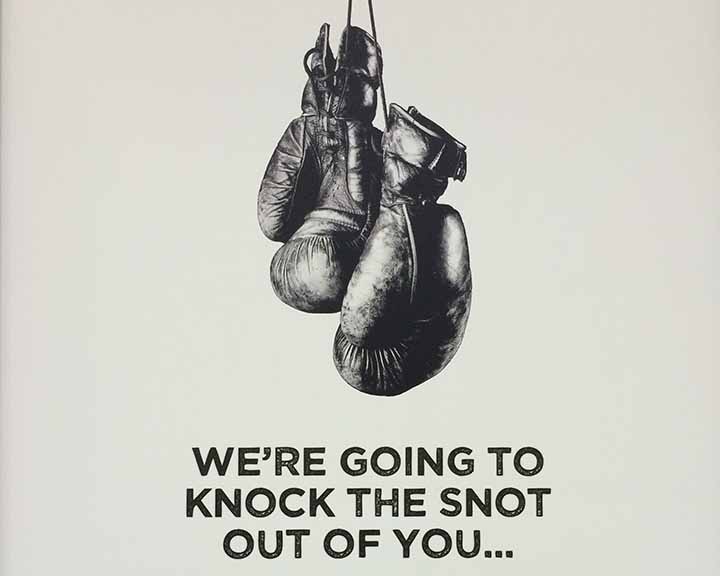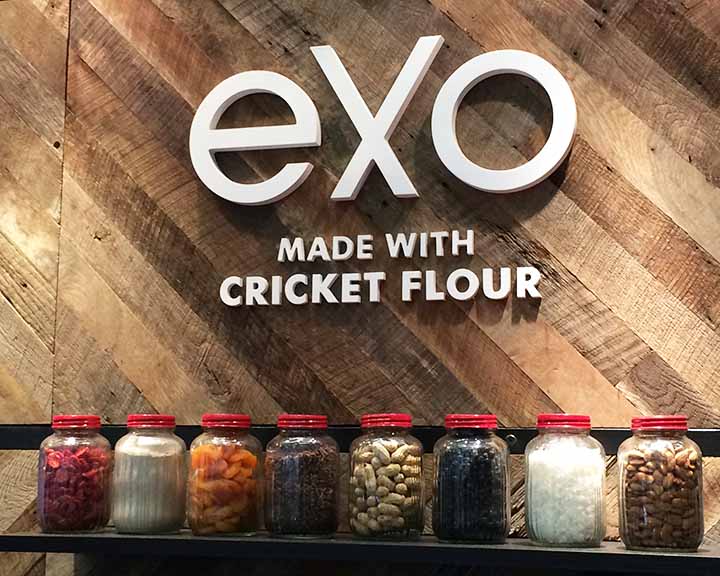 SIX—Exo Protein Bars made with cricket flour. These were really good and definitely a unique entry in the crowded and still growing bar category. They like cricket flour because it's 65% protein, compared to 23 for chicken and 12 for eggs. Check out more about this company and its products here.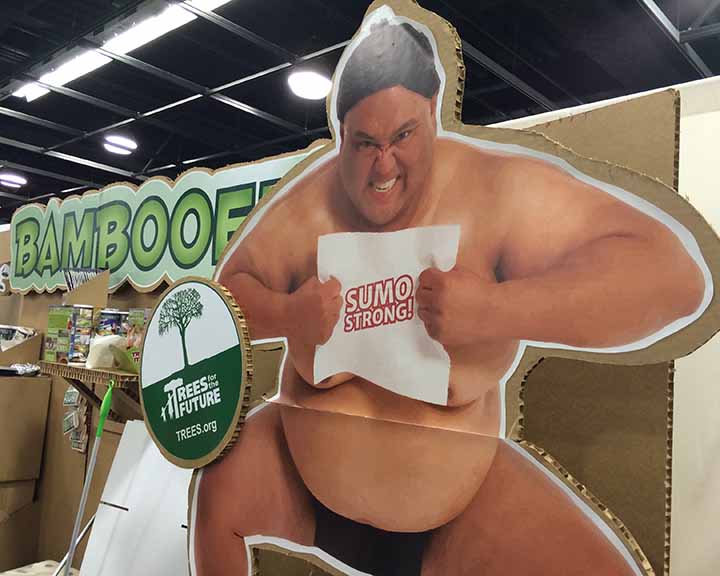 SEVEN—Bambooee® the un-paper towel. I couldn't walk past this guy without taking his pix. Turns out Bambooee® is a "sumo" strong reusable towel made from bamboo. I was told it's available at Whole Foods in rolls and individual towel packets. I asked the guy how it might be useful to brewers, and was told it's lint-free, reusable, won't rip and cleans "grungy stuff" off stainless steel with only water. It seemed to do that job when he demo'd it for me. If you want to try it, look at Whole Foods. Bambooee® is also doing a Costco roadshow in SoCal the next six months.
EIGHT—Trends. This show is a barometer of what's new and trending in the natural food category. Without a doubt, there were more food bars on the show floor than any other kind of food. And now they're coming in new shapes, like Bounce® Natural Energy Balls. Gluten-free products were probably second. Other hot trends were coconut ANYTHING, kale in any form, protein, sprouted grains, vegan, and of course the elusive and FDA-undefined term "natural".
NINE—Music. Who doesn't like a live band? This three-piece group (sorry, I missed their name) sounded great but was jamming to an almost empty courtyard at the end of the show. A few of us hung around to enjoy their sound and keep them company.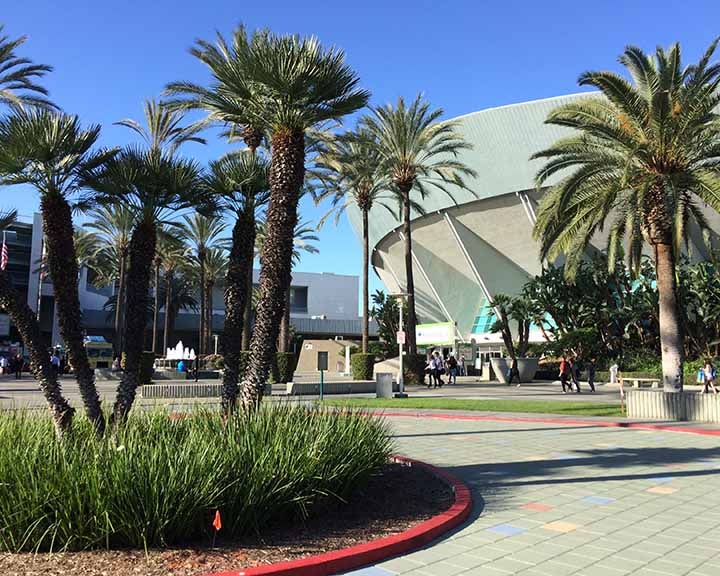 TEN—Warm weather and green grass. I actually thought of making this #1, considering the temp was 5º F the day I flew out of Milwaukee for the show. Anaheim temps ranged in the high 70s and to mid 80s during my stay.
The next major event Briess will attend is the annual BA Craft Brewers Conference and BrewExpo. Can't wait to get back to Portland, reconnect with friends and industry acquaintances and pour some beer for our booth visitors at the Briess-Hopunion Sponsored Beer Station. Hope to see you there. Cheers!