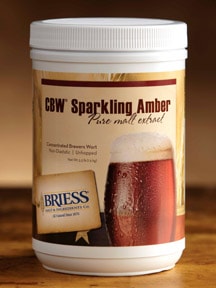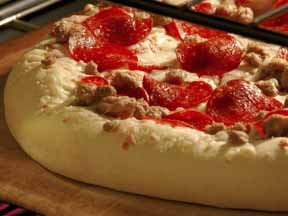 If you're on a quest to develop the perfect pizza crust, we'll let you in on our secret ingredient—CBW® Sparkling Amber. This unhopped malt extract has been a favorite with homebrewers for years. It's made from a blend of our own specialty malts and has a sweet, caramel flavor. We've found that when used in a small quantity, it adds that something special to a pizza crust. There's a hint of subtle flavor and the crumb has a wonderful texture. It also helps brown the crust during baking. And since it's food for the yeast, it will help the dough rise very nicely too. Any light malt extract will enhance yeast-raised doughs, but Sparkling Amber adds that touch of flavor and color that lighter styles won't.
How much should you use? Only a little. Try 1 teaspoon to 1 tablespoon per cup of flour. Don't forget to adjust for the extra liquid when adding it to your fav recipe. Here's ours…
CBW® Sparkling Amber Pizza Dough with Herbs
1 cup Italian 00 Flour*
1 cup all purpose flour
1/4 cup semolina
2 teaspoons instant yeast
1 teaspoon salt
2 teaspoons dried herbs
2 tablespoons olive oil
2 tablespoons CBW® Sparkling Amber
3/4 – 1 cup water at room temp
Combined all of the ingredients in your mixer and mix until a soft, slightly sticky dough forms. Let the dough rise 45-60 minutes. Gently deflate, divide into two pieces, and pull the dough into shape. The dough can continue to rise while prepping your toppings. Or top and bake immediately if you can't wait 🙂
* We've been super pleased with the results we get from King Arthur Flour's domestic version.