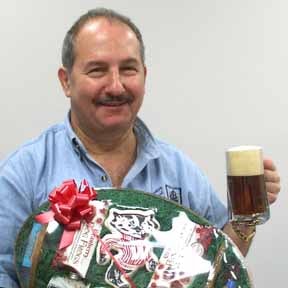 When Roger Briess died unexpectedly on this date in 2001, he probably couldn't have dreamed how robust the American craft beer industry would be a dozen years later.
Or maybe he could have.
Roger was a fourth-generation brewer and maltster with a passion for malting, brewing and beer. In 1975 he assumed the reigns of the family malting business, which had a strong export business. But Roger was drawn to the American craft beer revolution that was underway, and it couldn't have been a better fit. Like the new craft brewers, Roger's enthusiasm and excitement for craft beer was contagious. Roger embraced the emerging American craft beer industry, ultimately changing the focus of the family business into a specialty malting company serving the unique needs of American craft brewers. His close relationships with brewers resulted in innovative solutions for small breweries like recipe formulation, pilot brewing, 50-lb bags of malt, personal customer and technical support, and the introduction of high quality malt extracts and a wide range of specialty malts.
Roger was more apt to be found in a brewery than in his office. The sleeves of his signature blue denim shirt would be rolled up as he helped troubleshoot a brewhouse problem or simply shared a beer with a brewer. He was unconditionally dedicated to the American craft beer industry, a visionary whose contributions were recorded in this realbeer.com editorial at the time of his death.
Today, Roger's vision continues. Under the tutelage of owner and CEO Monica Briess, Briess Malt & Ingredients Co. remains dedicated to serving the unique needs of the American Craft Beer Industry. Following the recent Craft Brewers Conference in DC, Monica shared these reflections about her late husband.
"It's always been impossible to think of Roger without thinking of the brewing industry. He was happiest talking brewing and malting with a beer in his hand; it was Roger's passion, it was a part of who he was and, if you cared about Roger, you cared about brewing. He was committed to the industry, to the company, and everyone in the company—that was family to him.
"I often imagine what Roger's reaction would be if he could witness the changes that have taken place in the industry, and the dynamism in Briess—from the product innovation we've created over the last 12 years to the expansion in Wyoming just this year. Regardless, Roger's spirit and enthusiasm live on in Briess and it would have made him proud and happy to see his vision realized and honored. In the early days Roger bought tee shirts at every brewery he visited. I'm often reminded of it because I don't think I have any pictures of our boys, from toddler to teenager, where they aren't advertising beer, Briess or hops.
"Raising a glass in Roger's memory would be the ultimate tribute to a man who dreamed of the day when many craft brewers would produce many great beers. How happy he would have been to see his dream realized."
Please join us today as we raise a glass in honor of Roger Briess. A friend to many who, if he were here today, would invite you to sit down, break bread and raise a glass.