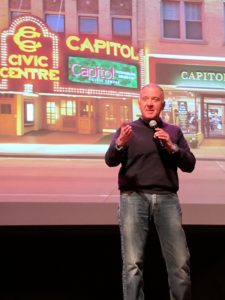 This Saturday, March 17, the WI PBS series "Around the Corner with John McGivern" featuring Manitowoc, airs on Channel 36 at 4 pm. We're excited that our Mani Barley Processing/Malting Operation is one of several businesses featured. Watch for President Ryan O'Toole and Plant Manager Dave Luckow as they show John the facility and malting process. (Scroll down for a trailer.)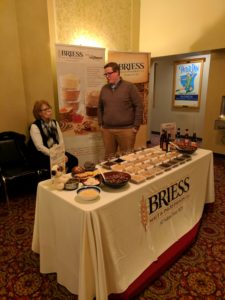 About 250 people from the area enjoyed an early screening on March 6, courtesy of WI PBS and the Manitowoc Visitor and Convention Bureau. From 5-6, John McGivern and show producer Lois Maurer mingled and chatted with the crowd. We had a display next to Cedar Crest Ice Cream, where they were serving awesome Caramel and Sea Salt ice cream. A few people topped theirs with Briess Malted Milk Balls.
"Around the Corner with John McGivern" first aired in 2011. With 13 episodes each season, the team is already preparing its landmark 100th episode. Every episode can be viewed in its entirely at the Around the Corner webpage. Watch a few and you'll see why it's popular.
John McGivern has a high energy, engaging and entertaining stage presence. After the preview, he shared some of the funny and zany experiences from his life, career and show.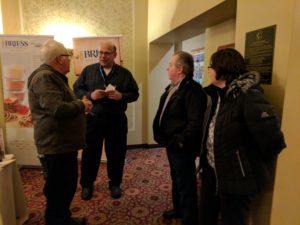 He and Lois fielded questions together, explaining that show staff jointly decide upon locations to feature. Lois, who admits being the down-to-earth side of the show, collects the long list of potential candidates for each episode. Then the difficult task of narrowing it down begins. They love what they do, traveling to new locations, meeting new people and seeing off-the-main-street activities many never experience.
John's career expands beyond hosting the Milwaukee PBS' Emmy award-winning show "Around the Corner with John McGivern". An American actor and writer, he is also known for his role in The Princess Diaries (2001). Other film appearances include Waterwalk (2012) and Punk's Not Dead (2007). He is well-known for his one-man-shows, has filmed national brand commercials, and contributes to Milwaukee Magazine where he takes readers on a tour of a new Wisconsin Weekend Getaway every month.
If you don't live in America's Dairyland, the episode will be available online after March 17 on milwaukeepbs.org, as well as Milwaukee PBS's YouTube Channel.
Trailer for Around The Corner with John McGivern™ featuring Manitowoc