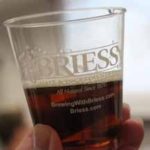 If great craft beer and plenty of it aren't reason enough to visit the Briess-Hopunion beer station later this month at the annual Craft Brewers Conference, how about two more? Colliding Hemispheres from DC Brau Brewing Co.  and Rusty Red from O'so Brewing Co.
The first is a one-off collaborative beer between DC Brau, HU and Briess. It's made with Midnight Wheat Malt and Caracrystal® Wheat Malt, two of our newer malts. The second is a yearly favorite from O'so Brewing Co. in Central Wisconsin recently reformulated with Goldpils® Vienna Malt, our newest malt. The only places to taste these beers will be at the Welcome Reception and the Briess-HU beer station. That's in Booth #7023, smack dab between the Briess and HU booths. We hope you'll stop for a sample and to chat with our staff.
DC Brau brewer Jeff Hancock fittingly named Colliding Hemispheres as a tribute to its ingredients—New Zealand and Australian hops from Hopunion, North American Malts from Briess, and their house Belgian Abbey yeast. It's a Belgo-American Brown Ale. "For the flavor profile of the beer I was aiming for something along the lines of a firm, yet subtle malt profile with subtle caramel and toffee notes with a kiss of cocoa thrown in coupled with a heavy hop presence conveying flavors of resinous tropical fruit, lemon zest, lime zest and white pepper. All these flavors will come together utilizing our house Belgian Abbey yeast which has a clean profile that produces esters reminiscent of dried fruits and will help carry the union of the hops and malt and produce a very memorable beer that mashes up traditional Belgian and American beer styles with a very unique southern hemisphere hop twist."
O'so brewer Marc Buttera describes Rusty Red as a "smooth malty Red Ale with hints of caramel and roast. Inspired by the beers of Vienna with an added twist of American style." It may be a red ale, but Goldpils® Vienna Malt is at the heart of this beer. Marc is keeping the recipe proprietary, but he does offer that a large part of the grist is Goldpils. And he offered his experience about reformulating an established brand. "O'so made the decision to purchase as many raw materials from Wisconsin as possible, so going mainly with Briess Malt & Ingredients Co. was an easy choice. We were very nervous to adjust our current recipes, but with the help of Penny [Pickart], she suggested we use the Goldpils® Vienna malt in place of the imported Vienna malts we were using in our Rusty Red ale. The transition was smooth and the Rusty Red is fantastic," Buttera explained. We're glad you like the malt and appreciate your comments!
We think you'll find both Rusty Red and Colliding Hemispheres are fantastic. Hope to see you in DC!