Midwest Craft Brewers Conference
Sensory Evaluation of Specialty Malts
Presented by: Penny Pickart
August 2, 2016 from 8:30 AM – 10:00 AM in Ballroom A-C
When it comes to choosing the best specialty malt for your brewing recipe, flavor contribution is one of the most important factors to consider. Whether you are looking to improve consistency or enhance creativity, sensory analysis of malt ingredients is a practice that will serve you well. Join Penny Pickart for a presentation on "Sensory Evaluation of Specialty Malts" where she will explore sensory methods that have been developed by Briess and the American Society of Brewing Chemists (ASBC) Sensory Technical Subcommittee. This presentation will provide a fundamental understanding of how malt flavors are generated and offer practical tools to perform your own malt sensory evaluations with a live demo of the Hot Steep Method.
Don't Miss Out!
Early bird registration ends Thursday, July 14 to save $50.00
Southern Brewers Conference
Trade Show and Brewing Expo
Join Aaron Hyde and Mike Killelea at Booth #802
August 3-6, 2016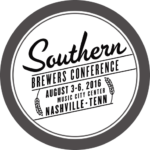 The agenda for the Southern Brewers Conference looks delightful with a number of hands-on classes, presentations as well as tours of some of the local breweries. Spike Buckowski, of Terrapin Beer Company will be delivering the keynote address of the conference, and speak on the exciting growth of craft beer in the South, as well as the challenges faced. The trade show begins at 10:00 AM and runs until 5:00 PM on Wednesday and Thursday and you will want to be sure to check out the Briess line of ingredients. Consult our staff for technical assistance and to discuss your unique needs, formulating or brewing challenges.
More about the event
The Southern Brewers Conference is a regional brewing industry event. The conference includes a two-day trade show, educational seminars, social events, and more. This conference is focused on 13 Southern States which include: Florida, Georgia, South Carolina, North Carolina, Virginia, West Virginia, Kentucky, Tennessee, Alabama, Mississippi, Arkansas, Louisiana and Texas.