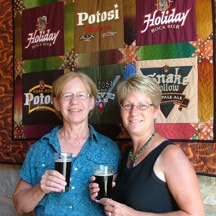 Most people try to get away from work when they're on vacation. Not me. In fact, I brought quite a bit of it along during a recent Sister's Getaway in Dubuque…in a cooler in the trunk of my car. It's the second year the four of us met in Dubuque, which is centrally located so none of us have to kill a whole day driving. And how convenient that I could hop onto State Highway 151 in Chilton and take it all the way across the state within miles of Potosi Brewing Company just in time to meet one of my sisters for lunch! Brewer Steve Buszka was preparing  for the next day's beer fest while we sampled some of his excellent brews and had lunch. After depositing several full growlers in my cooler, were made it to Dubuque within half an hour.
The next day found us in Galena, Illinois, about the time Galena Brewery opened its doors for lunch. This is a new brewpub that opened several months ago. They started brewing last summer. We walked in to see Brewer Sean Carter hard at work. He took time to chat with us, show us around and join us for a beer. What a fun time with great beer and food!
If you're ever in the area, stop at these brewpubs. The countryside is gorgeous, and the atmosphere, beer and food at both places is wonderful. And brewers Steve and Sean are gracious and welcoming. Go for work or pleasure. Or both. And come home with an empty cooler.