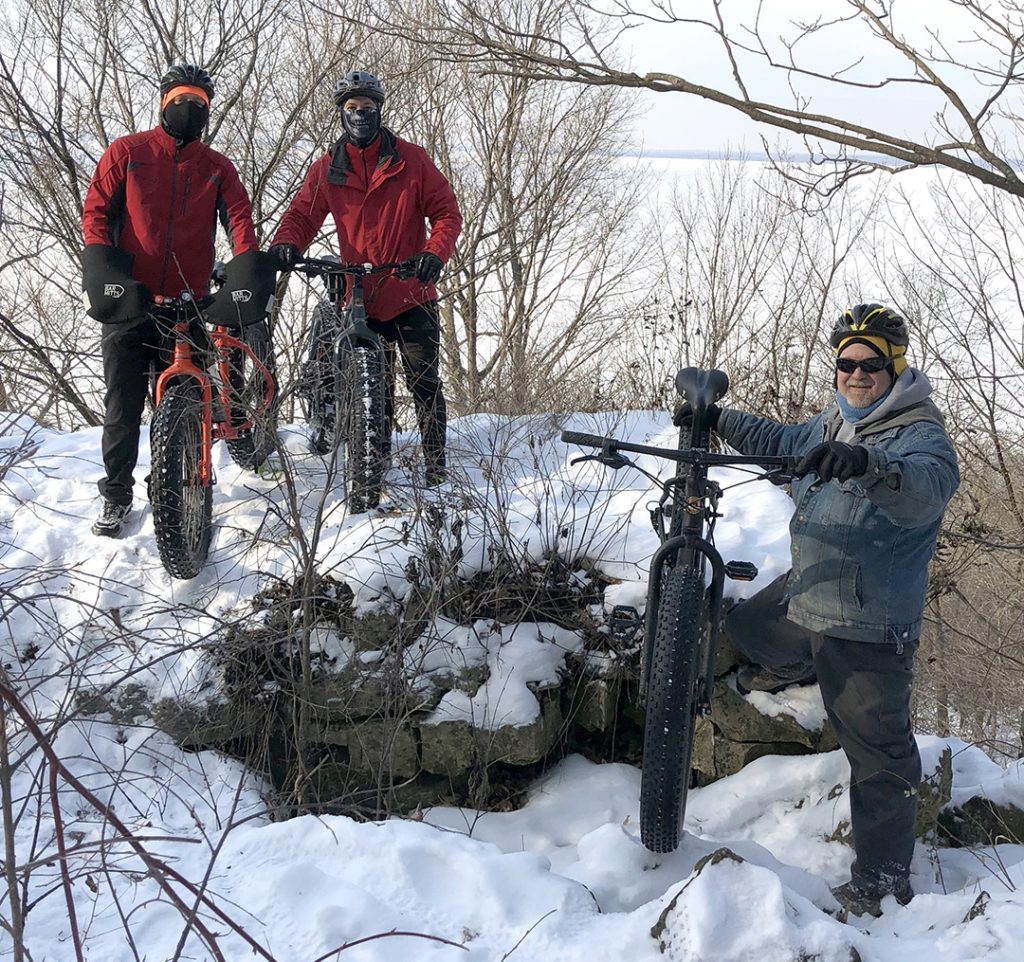 Wisconsinites don't let a little cold get in the way of a good time, and this is evident with the growing popularity of winter fat-tire biking. Fat biking is a term for a new breed of bicycle riding, characterized by extra wide tires which enable riders to float over snow, mud, or sand. Originally thought to be a fad, the fat biking community has continued to expand during the past decade, proving it's here to stay. Here in the Midwest, we have more than our spirit of adventure and hearty constitutions to be proud of. There's a direct link between the Northwoods and the birth of the sport, with many fat bike manufacturers calling Wisconsin, Minnesota, and Michigan home.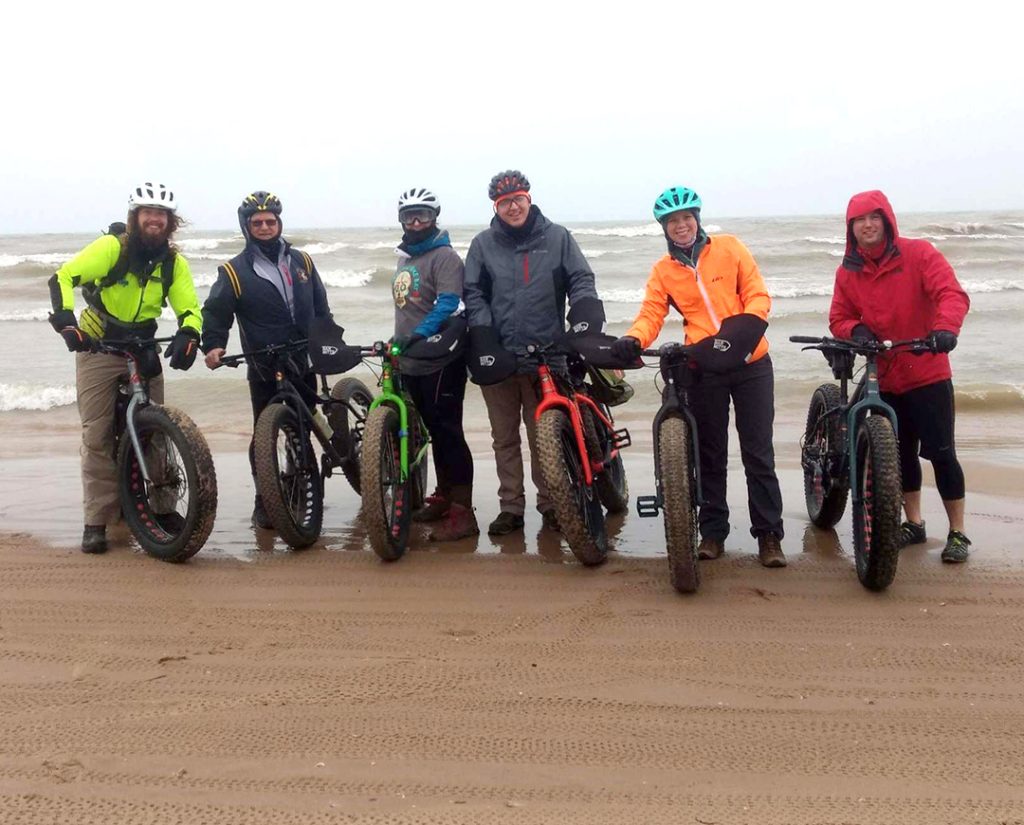 The connection between the sport and Briess is more than just employees enjoying community camaraderie (for real, these people know how to party). It's also interesting to note that a large number of Wisconsin breweries are close to trails! Some of these breweries go the extra mile for their pedaling patrons and have become foundational to the community. Considering that many of our trails are rail-to-trail conversions, this may not be surprising. Perhaps in the days before cyclists chewed up miles of gravel, trains made deliveries to these locations. While you're fact-checking that, be sure to hit up a local trail system and brewery.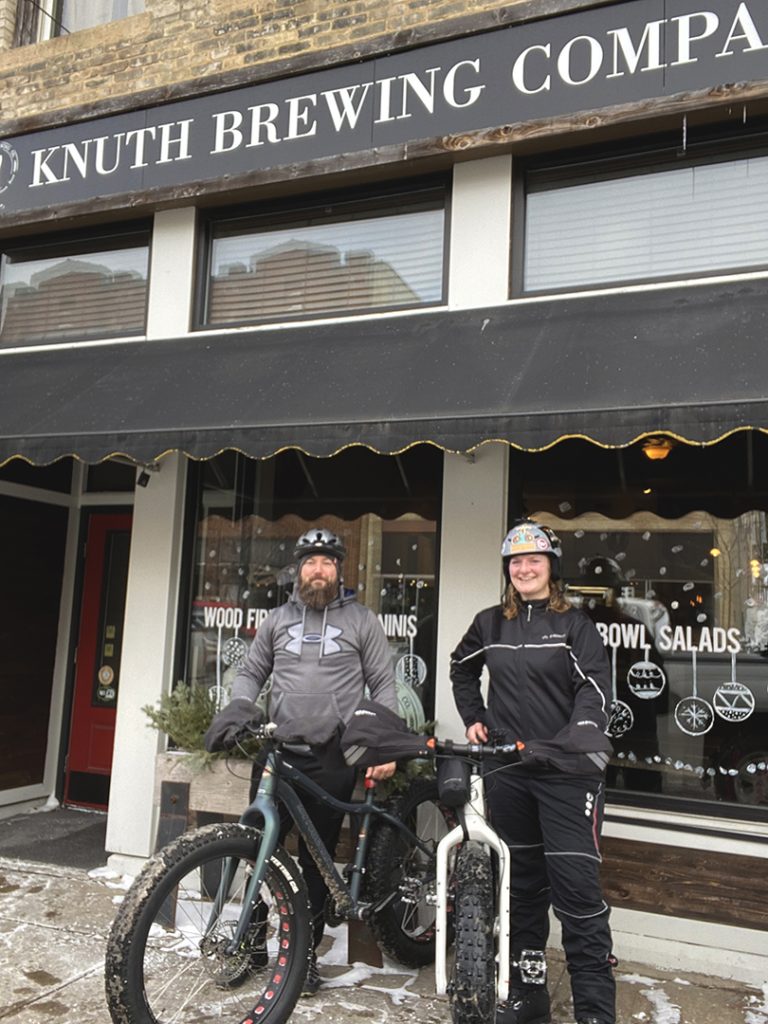 Whether you're cruising down endless pine corridors with nothing but the sound of snow crunching under your tires, carving up powder on single-track to the cheers of spectators, or just enjoying a ride through town, there's one guarantee… you'll be smiling all the way.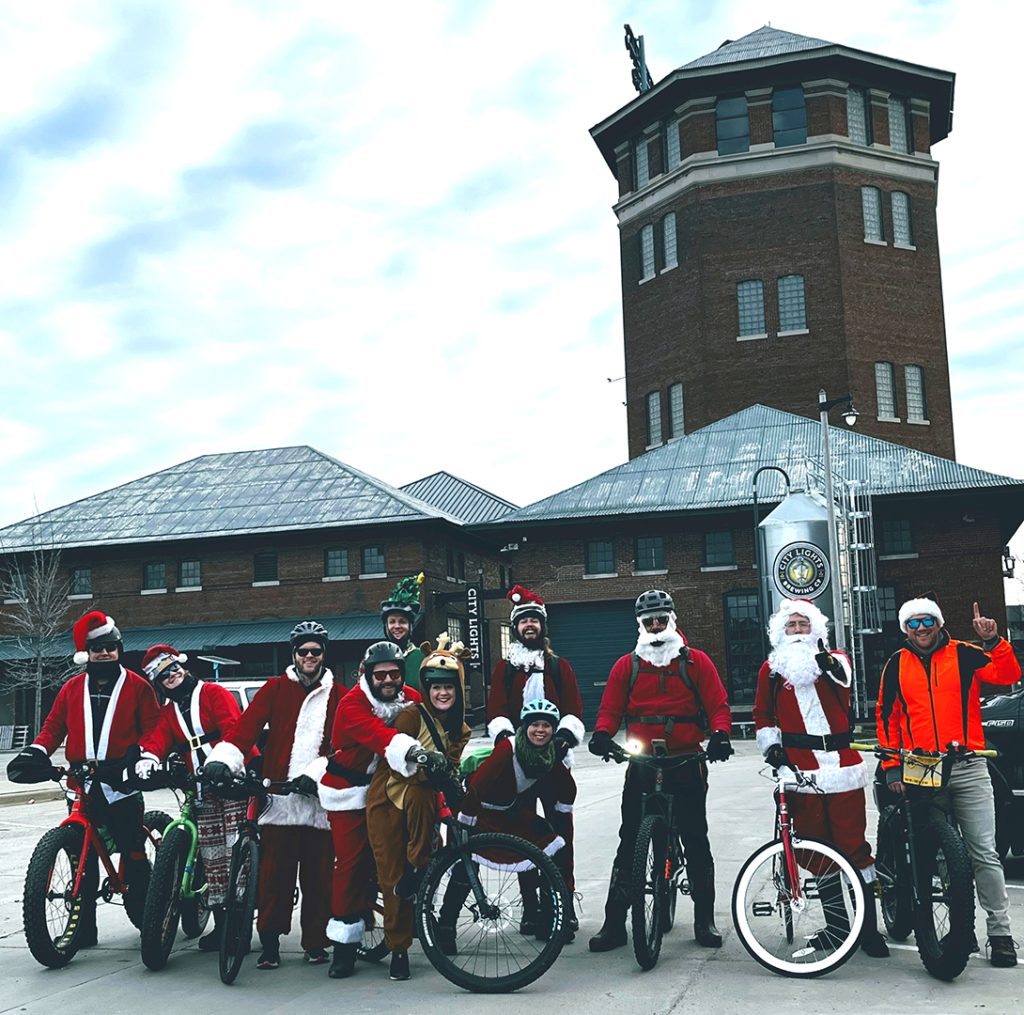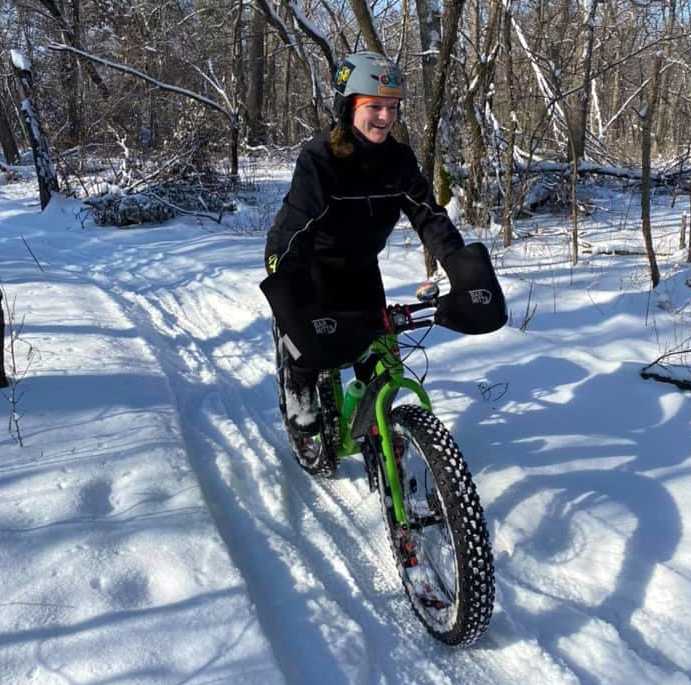 The chart below lists many of the Wisconsin locations for fat biking. Based on our company office located in Chilton, each ride is designated as close enough to be home for dinner, plan a day trip, or pack for an overnighter.
Enjoy the ride!

Distance from Chilton
Bikes
Brews
City
Close enough to be home by dinner
Newberry Trail
APPLETON BEER FACTORY, FOX RIVER BREWING, MCFLESHMAN'S BREWING, STONE ARCH BREWPUB
APPLETON
Devil's River State Trail
DUCK CREEK VINEYARD & WINERY
DENMARK
Sponsor of Snow Crown Race Series! Nearby mountain biking @ Brown County Reforestation Camp, and Baird Creek Trail
HINTERLAND BREWERY, STILLMANK BREWING
GREEN BAY
Ahnapee State Trail
THUMB KNUCKLE BREWING
LUXEMBURG
Mariner's Trail
PETSKULL BREWING, SABBATICAL BREWING
MANITOWOC
Loop the Little Lake Trail, Friendship Trail
BARREL 41 BREWING, LION'S TAIL BREWING
NEENAH
Wiowash State Trail, Urban riding to Menominee Park Trail
BARE BONES BREWERY, FIFTH WARD BREWING, FOX RIVER BREWING
OSHKOSH
Old Plank Road Trail
PLYMOUTH BREWING
PLYMOUTH
Mountain Bay State Trail
B&E DISTILLERY
PULASKI
Northwestern Trail, Mascoutin Valley Rec Trail (West)
KNUTH BREWING
RIPON
Nearby mountain biking @ Hartman Creek State Park
H.H. HINDER BREWING
WAUPACA
Plan a day trip
Tomorrow River State Trail
CENTRAL WATERS BREWING
AMHERST
Ozaukee Interurban Trail
THE FERMENTORIUM
CEDARBURG
Lake Country Rec Trail
DELAFIELD BREWHAUS
DELAFIELD
Ozaukee Interurban Trail
SPRECHER BREWING
GLENDALE
Sheboygan & Ozaukee Interurban Trail
SAHALE ALE WORKS
GRAFTON
Kinnikinic River Trail
GREAT LAKES DISTILLERY
JACKSON
Glacial Drumlin Bike Trail
DOG AND SHRUB DISTILLERY, SUNSHINE BREWING, TYRANENA BREWING
LAKE MILLS
Red Cedar State Trail, Junction Trail, Stokke Trail
BREWERY NONIC, LUCETTE BREWING
MENOMONIE
Urban riding to Oak Leaf Trail
CENTRAL WATERS BREWING, ENLIGHTENED BREWING
MILWAUKEE
Urban riding to Hank Aaron State Trail
INDEED BREWING, WIZARD WORKS BREWING
MILWAUKEE
Oak Leaf Trail to Beerline Trail
LAKEFRONT BREWERY, WATER STREET BREW
MILWAUKEE
Hank Aaron State Trail
MOBCRAFT BEER, THIRD SPACE BREWING
MILWAUKEE
KK River Trail
URBAN HARVEST BREWING
MILWAUKEE
Lake Country Trail
WATER STREET BREW LAKE COUNTRY
MILWAUKEE
Tomorrow River State Trail, nearby mountain biking @ Standing Rocks Rec Area
GREAT NORTHERN DISTILLING, O'SO BREWING
PLOVER
Mountain Bay State Trail
STUBBORN BROTHERS BREWERY
SHAWANO
Green Circle Trail
BREWERY RESOLUTE
STEVENS POINT
Ahnapee State Trail
SONNY'S PIZZERIA
STURGEON BAY
Nearby mountain biking @ Brown County Reforestation Camp, Mountain Bay State Trail, Ahnapee State Trail
AHNAPEE BREWERY, STATION 1 BREWING & DANCE HALL
SUAMICO
Pack for an Overnighter!
Great Sauk Trail, 400 State Bike Trail, Omaha Bike Trail, Elroy Sparta State Bike Trail, Nearby mountain biking @ Mirror Lake State Park
AL RINGLING BREWING, ROCK 'N BEER
BARABOO
Nearby mountain biking @ Mt Ashwabay Trails
ADVENTURE CLUB BREWING, COPPER CROW DISTILLERY
BAYFIELD
Riverside Corridor Trail
G5 BREWING
BELOIT
Newton Blackmour State Trail
SAND CREEK BREWING
BLACK RIVER FALLS
White River State Trail
RUNAWAY MICROPUB & NANO BREWERY, LLC~THE
BURLINGTON
Old Abe State Trail
MOONRIDGE BREWING
CORNELL
Chippewa River State Trail
DURAND BREWING
DURAND
Chippewa River State Trail
THE BREWING PROJEKT
EAU CLAIRE
Capitol City State Trail, Cannonball Path
GREAT DANE PUB & BREWING CO.
FITCHBURG
100s of miles of trails and offroad routes! City of Hayward Bike Trail, CAMBA trails
THE ANGRY MINNOW
HAYWARD
Hillsboro State Trail to 400 State Trail
HILLSBORO BREWING
HILLSBORO
Hudson to Lakeland Trail/Lakeland to Afton Trail
HOP & BARREL BREWING
HUDSON
Tri-Country Corridor Trail
CORVALE
IRON RIVER
Kenosha County Bike Trail, Kenosha Pike Bike Trail
KENOSHA BREWING, PUBLIC CRAFT BREWING, RUSTIC VENTURES
KENOSHA
Swift Creek Trail, Marsh Trail Network
CITY BREWING CO, TURTLE STACK BREWERY
LA CROSSE
Capital City Trail
GIANT JONES BREWING, GREAT DANE BREWERY, NEXT DOOR BREWING, OLD SUGAR DISTILLERY, STATE LINE DISTILLERY, WORKING DRAFT BEER
MADISON
Manitowish Waters Bike Trail, Manitowish Waters Hike and Bike Trail
SOME NERVE BREWING
MANITOWISH WATERS
South Fork Trail
CAPITAL BREWERY
MIDDLETON
Bearskin State Trail
MINOCQUA BREWING, NORTHERN WATERS DISTILLERY
MINOCQUA
Badger State Trail
MINHAS CRAFT BREWERY
MONROE
Nearby mountain biking @ Nine Mile Forest
MOSINEE BREWING
MOSINEE
Sugar River State Trail, Badger State Trail
NEW GLARUS BREWING
NEW GLARUS
Rail Bridge Trail
45TH PARALLEL SPIRITS
NEW RICHMOND
La Crosse River Trail
LOST ISLAND WINE
ONALASKA
Buffalo River State Trail
NORTHWOODS BREWING, TOPSY TURVY BREWING
OSSEO
Awesome rural riding along the Mississippi River, contact Amber if you want routes!
POTOSI BREWING
POTOSI
Great Sauk Trail
WOLLERSHEIM WINERY & DISTILLERY
PRAIRIE DU SAC
400 State Trail
CORNER PUB
REEDSBURG
Pine River Trail
MELS MICRO BREW
RICHLAND CENTER
Wild Rivers State Trail, short drive to Wildcat Mountain Bike Trail
PERLICK DISTILLERY
SARONA
Osaugie Trail
THIRSTY PAGAN BREWING
SUPERIOR
Military Ridge State Trail, Badger State Trail
WISCONSIN BREWING, BEVSOURCE, LLC.
VERONA
Nearby mountain biking @ Mirror Lake State Park
MOOSEJAW PIZZA & BREWING
WISCONSIN DELLS