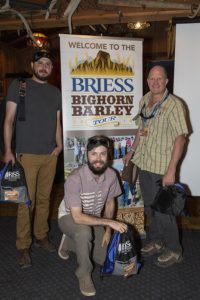 Just before Bighorn barley growers starting harvesting this year's crop last month, a group of brewers traveled to the region for a two-day workshop that included tours of the irrigation projects, growers fields and Briess Wyoming Barley Operations. Special thanks to this exceptional group for taking time from their busy schedules to join us. It's exciting to see first-hand barley that's ready to be harvested, tested and tucked into storage while waiting its turn to become malt for your next craft brew.
Here are a few pictures from the event. In case you weren't aware, Briess purchased the Ralston Elevator (near Cody) in 2013. It's an impressive operation, with a state-of-the-art elevator, storage and rail service directly to our barley operations and malthouse in Manitowoc, WI. The acquisition immediately connected us…and our customers…with hundreds of exceptionally experienced barley growers who grow premium quality crops. Our staff out there is top notch, too!
If you're interested in taking the Briess Bighorn Barley Tour next year in July contact your Briess Division Manager – it's not too soon to start planning. Cheers!