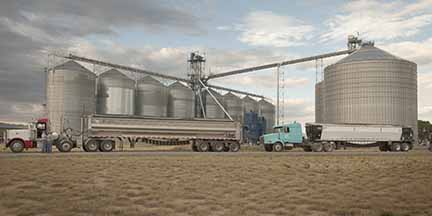 Meeting the needs of craft beer continues to be our focus at Briess. Our latest initiative to secure a consistent supply of high-quality barley for malting, and roasted malts for brewing, is an expansion plan that builds upon our recent acquisitions. The plan includes adding 1.5 million bushels of storage at our barley operation in Ralston, WY, and the installation of another roaster at our Waterloo, WI, malting operation.
In the past several years Briess took complete control of its barley supply chain. In 2013 we acquired a large barley operation in Wyoming which immediately connected us with a network of more than 250 experienced barley growers in Wyoming and Montana. We also contract directly with growers in other barley growing regions. Last year we acquired a large barley cleaning, grading and storage operation in Manitowoc, WI. And this past January we commissioned a large malthouse at that location which more than doubled malting capacity.
The new roaster being installed brings to seven the total number of roasters operated by Briess—three at our Waterloo Malthouse, two at our Chilton Malthouse and two at our Insta® Grains Plant. Did you know that Briess has been roasting malt for beer since the 1950s, and was the first malting company to offer roasted malt to American craft brewers?
In Wyoming, the additional barley storage will help accommodate increased barley plantings for Briess.
Our Wyoming barley operation was processing about 3 million bushels of barley a year when Briess purchased it in 2013. This year we have contracts for about 5.8 million bushels, and our goal is to continue seeking increased barley acreage and new barley varieties.
We are adding two new 750,000-bushel bins that will increase total onsite storage to 3.8 million bushels. That's in addition to the 4 million bushels of storage at our Manitowoc operation. The two operations are linked by rail, and the Manitowoc operation is linked by rail to both malting operations.
The Briess family believed in, and embraced, the American craft beer movement since its earliest days, Today the family continues to invest in order to help craft beer continue to grow. Stay tuned.