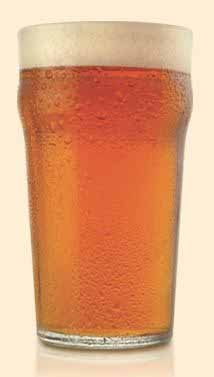 If you haven't used Briess Pilsen Malt in your lager and session beers yet, I recommend it. I've had a lot of success in the pilot brewery with it, and knowing that it's made from barley grown in Wyoming and Montana just for Briess is nice.
Just a few things about Briess Pilsen Malt. At 1.2º Lovibond it's the lightest base malt Briess produces, and one of the lightest available. It has a really nice clean, sweet, delicate malty flavor and produces just about the lightest color, cleanest, most crisp wort of any base malt I've ever tried so it allows the full flavor of any specialty malt you use shine through. It's a great choice for lagers, but is certainly nice for other beer styles. Blend it with another base malt for interest.
It's available in both whole kernel and pure extract form. To brew this recipe as all grain, just convert the CBW® Pilsen Light LME to dry whole kernel malt. The Pilsen Malt in this "Extra Special Roast Bitter" the biscuit, tangy-sourdough character of Briess Special Roast Malt to come through.
ESRB
Type: Lager
Style: ESB
Batch Size: 5 gallons
Recipe Type: Extract with grain
Recipe Contributed By: Briess Technical Services team
Ingredients
6.6 lbs—CBW® Pilsen Light LME (20-minute boil)
1 lb—Briess Pale Ale Malt
0.5 lbs—Briess Special Roast Malt
0.5 lbs—Briess Carapils® Malt
0.75 oz—Target (12% AA hop) (60-minute boil)
0.5 oz—Tettnang (4.0% AA hop) (20-minute boil)
0.5 oz—Golding (5.0% AA hop) (20-minute boil)
0.5 oz—Tettnang (4.0$ AA hop) (5-minute boil)
0.5 oz—Golding (5.0% AA hop) (5-minute boil)
1 vial—WLP006 Bedford British Yeast
Procedures
Steep grain at 152-158ºF for 30 minutes
Remove grains, bring to boil, add first hop addition
Boil 40 minutes, remove from heat, add second hop addition and LME
Boil 15 minutes, add final hop addition
Boil 5 minutes
Cool o 68ºF, oxygenate wort
Pitch 1 vial WLP006 Bedford British Yeast
Fermentation
Primary Fermentation: 1-2 weeks at 68ºF
Secondary Fermentation: 1-2 weeks (optional)
Bottle condition or force carbonate
Stats
Original Gravity: 1.054
Final Gravity: 1.014
Alcohol by Weight: 4.2%
Alcohol by Volume: 5.2%
IBU: 42
Color: 9º Lovibond