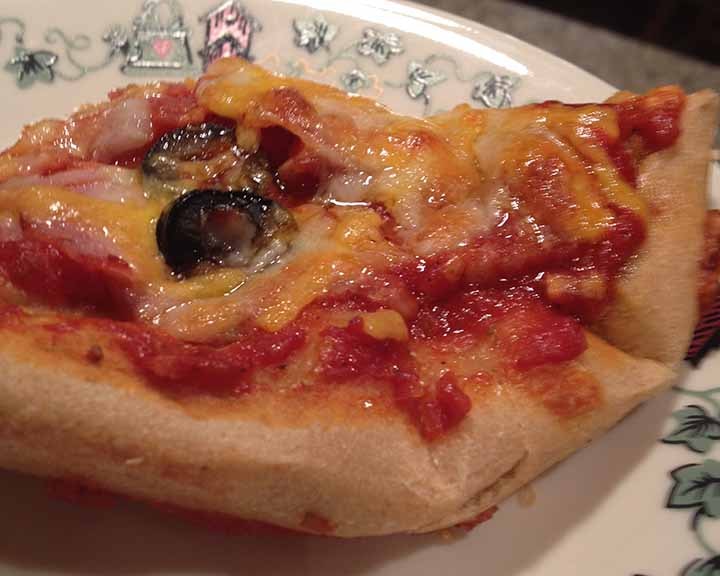 What a great time of year! Not only are the holidays upon us, but it's football season too! (And everyone knows how us Cheeseheads in Wisconsin love our football.) Both make perfect excuses for serving made-from-scratch pizza to your guests or customers. But did you know that even if you don't have a wood-fired oven, you can turn out a terrific smoke-flavored pizza crust with a little help from Briess Smoked Malt?
Briess Smoked Malt adds subtle notes of smoke flavor to the crust, and enhances the color of the crust. For best results, grind your malt 30 seconds or so in a coffee grinder. Keep the grind similar to a stone ground whole grain flour. Also, because I'm big into getting whole grains into my family whenever I can, over half of the flours in this crust are whole grain, including the smoked malt. Make this dough game day or the day before. An overnight fermentation in the fridge only adds flavor.
I topped this with my family's fave toppings—traditional tomato-based sauce, sausage, you get the picture. In fact, my family is dominated by carnivores who want 5 types of meat along with 3 cheeses…check out the picture. It was terrific, but I think it would be great with barbeque chicken, red onions and fresh mozzarella. Top it with your favorite toppings. You can't go wrong with this malt-fired pizza.
Briess Smoked Malt Pizza Dough
1 tbsp—Active dry yeast
2 tbsp—Sugar
1 ½ cups—Warm water
1 tbsp—Olive oil
1 tsp—Salt
1 ¾ cup—Whole wheat flour
¼ cup—Briess Smoked Malt, ground into flour

1 ½ cup—All purpose flour
Directions
In a large mixing bowl, add sugar and water and sprinkle the yeast over it. Let stand for 10 minutes (it should be starting to foam).
Add olive oil and salt and stir until combined.
Mix in whole wheat flour, Briess Smoked Malt and 1 cup all purpose flour.
Stir until dough comes together (soft and sticky).
Flour a hard surface with the remaining all purpose flour, tip dough out on bowl onto floured surface.
Knead dough until all of the flour is worked in. Dough should have a smooth surface and extensibility.
Form into ball and place in lightly oil bowl, cover with cloth and let rise about 1 hour.
At this point if you wish to make it ahead, cover the bowl and place in refrigerator up to 3 days. When using refrigerated dough, remove and bring to room temperature (about 1 hour) then continue below. Dough will not have risen much. That's okay, don't worry, have a beer.
Punch down dough and divide into 2 pieces for thin crust pizzas, or use all the dough for one thick crust pizza. Form into tight ball(s), place on lightly oiled baking sheet and let rise 45 minutes. Dough should of almost doubled. If not, let rise another 15 minutes or so.
Preheat oven to 450F.
Flatten dough into two 8-inch round crusts (thin) or one 12-inch round or rectangle (thick) crust. Gently stretch using a rolling pin if needed to form two-12-inch round crusts (thin) or one 18-inch round or 11×17 rectangular crusts.
Place back onto a lightly oil pizza pan.
Very lightly brush crust with olive oil and bake for 5–8 minutes
Remove from oven, top with your favorite toppings and bake for 8 – 10 minutes until cheese bubbles and crust has golden edges.
Cool 5 minutes, slice and enjoy.