American Honey Malt is a modern take on a traditional European-style Brumalt, also known as melanoidin malt. We start with our American-grown barley and tailor our typical steep and germination process to produce a highly-modified green malt, leading to one of our most unique and complex malt flavors. Contact your Division Manager or request a sample through our American Honey Malt webpage!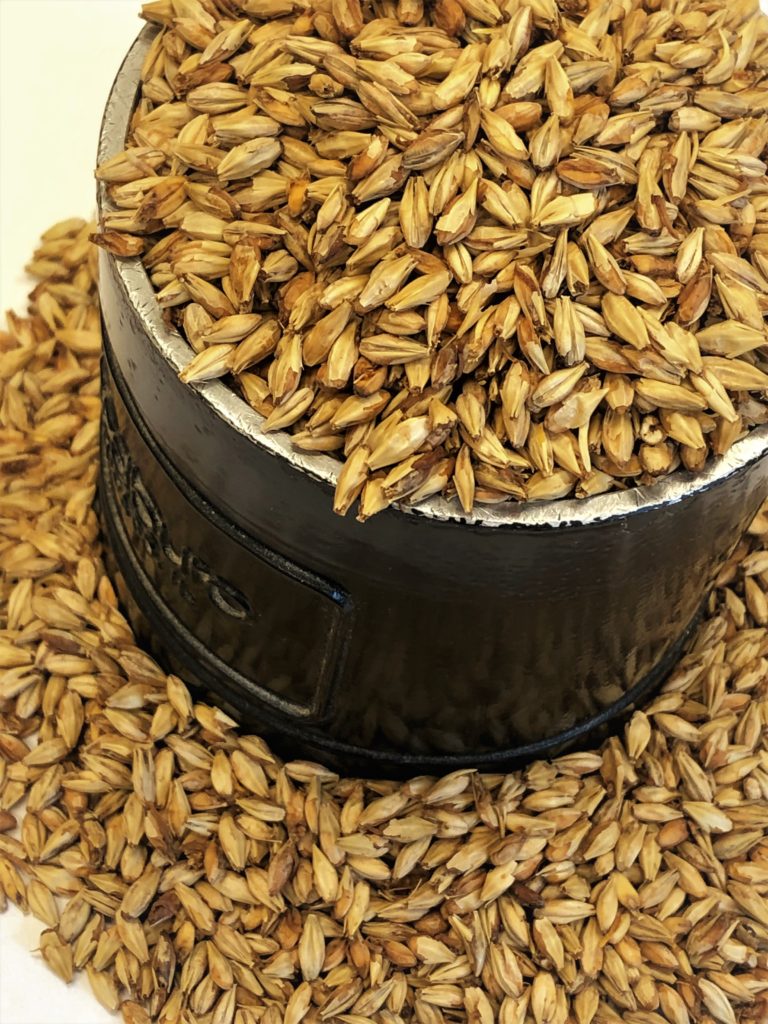 Expect light honey and sweet bready notes with a deep golden color at 1-5% inclusion, and increasing warm bakery flavors and brilliant amber color at higher rates. When kilned, the Maillard reaction compounds (amino acids and sugars) contribute to this melanoidin malt's deeply complex flavor.
Sound interesting? Try the California Common recipe below. The warm bakery flavors of graham cracker and toffee from the American Honey Malt really come through.
Crazy 4 Cali – California Common Recipe
OG: 1.048
FG: 1.012
ABV: 4.7
IBU: 32
COLOR(SRM): 10
DESCRIPTION: A recipe for those who love a California Common but want to skip the decoction. This recipe utilizes Briess American Honey Malt to achieve a prominent melanoidin character as a stand-in for the flavors developed in decoction brewing. Recipe for 5 US gallons (19L)
QUANTITY/INGREDIENTS/COMMENT:
8.0 lbs/Briess Pale Ale Malt/Mash Grain
1.0 lbs/Briess American Honey Malt/Mash Grain
0.6 oz/Northern Brewers Hops (8.0% AAU)/60 min boil
1.0 oz/Northern Brewers Hops (8.0% AAU)/15 min boil
0.6 oz/Northern Brewers Hops (8.0% AAU)/5 min boil
1 pack/ WLP810 San Francisco Lager, Wyeast 2112, Omega OYL-105, or Imperial L05 Yeast (plus 1/4 pack for bottle conditioning)/Fermenter
BREWING PROCEDURE:
Mash crushed grains in 3.5 gallons of water at 153-155°F for 60 minutes
Sparge grain with 170°F water to obtain desired pre-boil kettle volume
Bring to boil
Add 0.6 oz Northern Brewer hops
Boil 45 minutes
Add 1.0 oz Northern Brewer hops
Boil for 10 minutes
Add 0.6 oz Northern Brewer hops
Boil for 5 minutes
Turn heat off and cool wort to 62°F
Transfer to fermenter
Pitch yeast
PRIMARY FERMENTATION: 2-3 weeks at 60-64°F
SECONDARY FERMENTATION: 2-3 weeks at 34-40°F
FERMENTATION NOTES: Force carbonate, or bottle condition with dissolved priming sugar and ¼ pack of WLP810 San Francisco Lager Yeast for 2-3 weeks