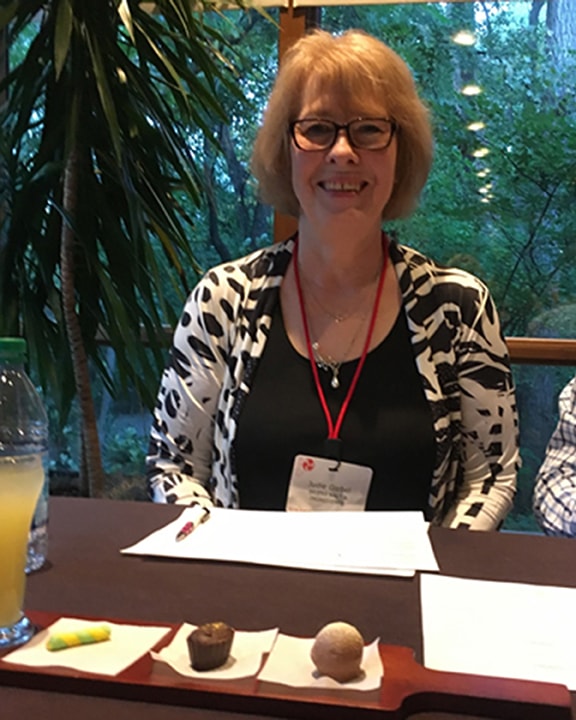 Every once in a while, I can't help but absolutely love my job. Recently our certified master baker and lead food ingredients researcher Judie Giebel attended a technical confection event and ended up judging the Iron Confectioner competition! I was fortunate to be on hand, and enjoyed seeing first-hand that not only does beer pair well with chocolate, it also pairs amazingly well with candy and candy artisans, and scientists!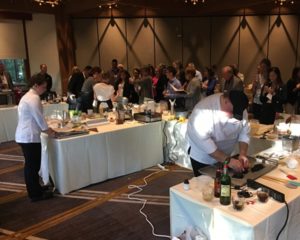 Every year, when the best and brightest candy manufacturers in the United States gather to educate each other, share ideas and tackle shared challenges at the American Association of Candy Technologists National Technical Seminar, they have a competition. A candy competition, or more appropriately stated, THE candy competition—The Annual Iron Confectioner Challenge. This LIVE competition pits teams of well-prepared confectionery artists and scientists against each other to prepare delicious, well-presented thematic confections involving a secret ingredient revealed only at the beginning of the competition in a live arena cheered on by their peers.
As anyone who watches reality cooking shows knows, every competition needs celebrity judges.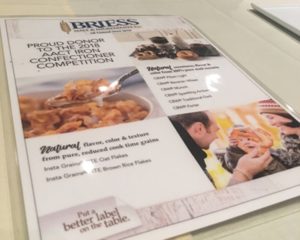 This year's Iron Confectioner Challenge was honored with the appearance of Judie, our confectioner genius. Judie delivered not only professional judgment, but also supplied some of the ingredients for the challenge. As it turned out, this year's secret ingredient was: Beer.
Briess contributed some of our Concentrated Brewing Worts (CBW's), which are our high-quality malt extracts made specifically for flavor-sensitive application like beer or candy. We also contributed several grain ingredients which, in many cases, have applications in both beer and candy. And Judie would know. Not only is she a graduate of "Candy College" (the resident course in confectionery technology at the University of Wisconsin-Madison), but she also worked for many year in the Briess research brewery.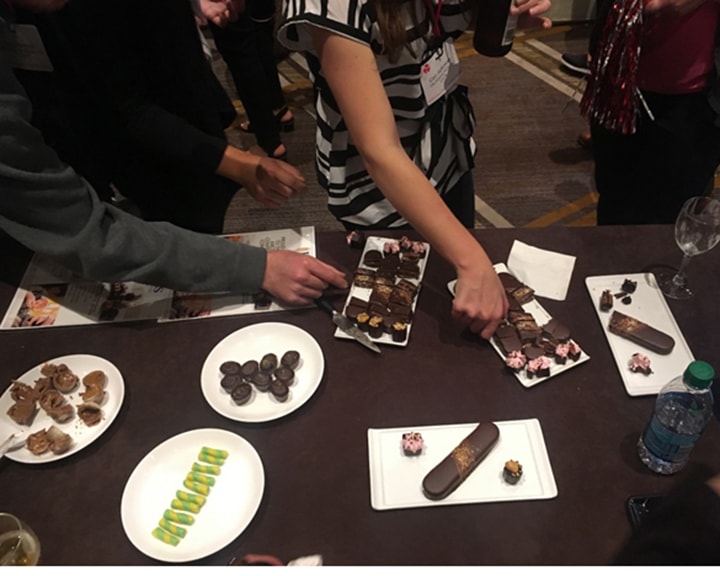 This year's competition found teams from two of the best chocolate companies in the world—Barry Callebaut and Blommer Chocolate Company—competing head-to-head. In a very close and delicious contest plagued by power outages and the usual injuries and chaos involved in live confectionery, these teams each produced multiple wonderful confections in a very short time. Confections were judged based on originality, flavor and appearance.
Though it was epically close, Judie and the other judges awarded the Iron Confectioner title to the Blommer team. Blommer cleverly chose to create one confection representing each ingredient used in beer:
For Malt:
Barley Malt Caramel—A caramel produced with malt extract, covered by a chocolate shell and topically coated with malted milk powder.
For Yeast:
Dark Chocolate Shell—A tahini and nutritional yeast filling with sea salt, covered with a chocolate ganache.
For Hops
A Hop Chew—Chewy candy made with lemon drop hops and a citrus flavor.
For Water:
Tonic—Made with hop-infused distilled beer, water, CBW® Pilsen Light pure malt extract, lemon and simple syrup.
As the pictures show the judges, participants and spectators thoroughly enjoyed the competition and the artful confections that were produced.