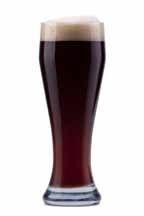 Caracrystal® Wheat Malt is a fairly recent addition to our malt portfolio, so we've loaded 10 recipes into our online recipe database for your brewing inspiration. Thanks to Kevin Eichelberger of Redeye Brewing Co. for sharing his American Dark Wheat recipe, and Doug Hindman of Elliott Bay Brewing Co. for sharing his Sunnydale Pale Ale recipe. There are also five-gallon recipes for all-grain and extract homebrewers.
What flavors can you expect from Caracrystal® Wheat Malt? Our sensory panels identified no less than seven descriptors—sweet, smooth, malty, bready, subtle caramel, dark toast, exceptionally clean finish. That qualifies it as a good candidate for all kinds of styles. Post a comment about what you brew with Caracrystal. We'd like your feedback.
Caracrystal® Wheat Malt is a roasted caramel wheat malt with a color of 55º L. It's one of two Maltster's Reserve Series malts (seasonal malts) and is available January through June. Ask for it at your LHBS. Licensed breweries can purchase directly from Briess or an authorized distrib. Cheers!