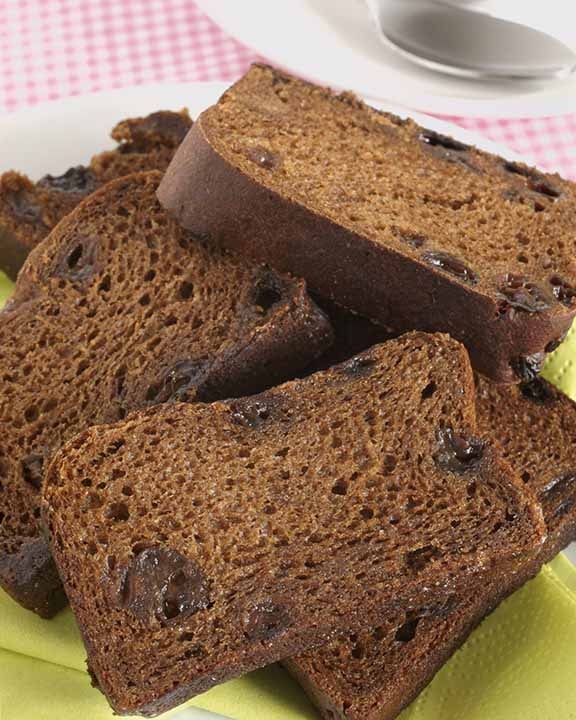 Fruit Cake is one Christmas tradition that most people would like to forget. But with a few ingredient changes this door-stopper becomes a delicious English Malt Loaf, a traditional British tea-time cake typically smeared with butter before serving. I decided to use one of our most popular malt extracts, CBW® Sparkling Amber, in this recipe for emphasized malty caramel flavor. Dense and sweet with a chewy texture and malty flavor, English Malt Loaf just may become a delicious tradition you will want to carry on for many holidays to come.
English Malt Loaf
150 ml—Hot Black Tea
150 grams—Briess CBW®  Sparkling Amber LME
50 grams—Caster Sugar (granulated sugar ground into superfine sugar in a coffee grinder)
30 grams—Molasses
250 grams—Dried mixed fruit
2—Large eggs (slightly beaten)
250 grams—All-purpose flour
1 tsp—Baking powder
½ tsp—Baking soda
Directions
Preheat oven  300F
Grease two 1lb loaf pans
Mix hot tea, malt extract, sugar, molasses, and mixed fruit in a mixing bowl
Stir in eggs and stir until completely incorporated
Add flour and mix until well blended
Add baking powder and baking soda
Stir
Spoon mixture into loaf pans and bake 45–50 minutes until loaves have risen and are golden brown
Cool on wire racks
For even better more flavorful loaves, bake, cool, and wrap tightly in foil and let set at room temperature for two to five days to mature.