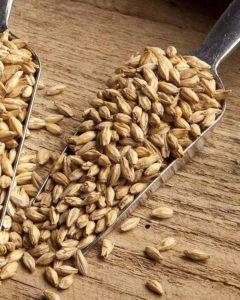 This is one of the newest malts we offer, and it became one of my favorite as soon as I tasted my first beer brewed from it. Besides the nice malty character you'd expect from a good Vienna, Goldpils® Vienna Malt also has layers of flavor including a touch of toast. Produced from high quality 2-row malting barley contract grown for Briess by Wyoming barley growers, Goldpils Malt finishes exceptionally clean.
The same color as our Pale Ale Malt, 3.5º Lovibond, Goldpils Vienna contributes light golden color. But its not as malty or sweet as our Pale Ale because it's less modified, and less intensely kilned than Munich Malt. With a diastatic power of 80, Goldpils can support the inclusion of even the most demanding specialty malts without extending the brewing cycle. So feel free to use it up to 100% not only in your traditional German Lagers, but also in other ales and rich, full flavored dark beers. Its also a great malt for your single malt/single hop beers.
Other recommended usage levels are 10% or more in all but the lightest beer styles like IPAs.  Or try up to 15% or more in high gravity beers like Bock.
Visit the Briess recipe database for Goldpils® Vienna brewing inspiration.