Roasted Barley (300º L) doesn't technically qualify for the "malt of the month" club because it's not malted. Rather, Roasted Barley bypasses germination and proceeds directly to the roaster, where high temps develop rich coffee, intense bitter and dry flavors and deep mahogany red to deep brown colors.
This is the go-to malt when brewing Stout and some Porters, where it's frequently used at 3-7%. Or use in a wide variety of styles for complexity. It also adds color to foam. Black Malt doesn't.
Dave Richter, Briess Division Manager for western states, noted it's important to remember that Briess Roasted Barley isn't a 1:1 substitute for imported Roasted Barleys, most of which are closer to 500º L. But if you make color adjustments in order to substitute , expect a pleasant surprise. Briess has an appealing roasted coffee flavor that's different from other Roasted Barleys, and customers often tell us they won't brew certain styles of beer without it.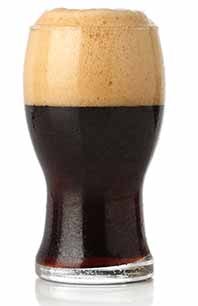 Rich Tucciarone, Briess Division Manager for southwestern states, thinks it's nice to use Roasted Barley with Dark Chocolate Malt in dark beer styles. "Think espresso stout and cocoa nibs…yum!" This 5-gallon extract-with-grains Belgian Chocolate Stout recipe is a good example. He also thinks it gives a subtle roast/toast character/complexity to Red or Brown ales.
Some brewers use a blend of Roasted Barley and Black Malt to brew a Stout with more color and less intense Roasted Barley flavor. It's also frequently used with Chocolate Malt or Black Malt to obtain a desired color. For more Briess Roasted Barley recipes visit our recipe database.
Keep in mind that Roasted Barley is not a substitute for Black Malt (500º L), which is much darker and used most frequently for color adjustment. Black Malt also contributes bitter, dry notes when used at more than 3% or so, depending upon the style you're brewing.
Happy Roasted Barley Brewing!