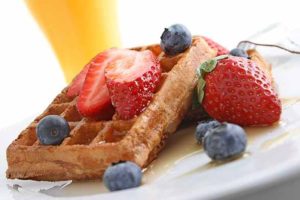 Here's a Mother's Day brunch treat that's as one-of-a-kind as the beers you brew. These delightful waffles carry the same flavor as the spent grain you use, so they can be as nutty as your Nut Brown Ale or as sweet and caramely as the Scottish Ale you may want to serve them with. Spent grain flour is easy to make, it just takes a little time and planning. You can do that days before you make the waffles. I hope you enjoy them!
Spent Flour
Heat oven to 170-200ºF
Spread wet grains on a cookie sheet about 1/4 inch thick (drain and squeeze out as much moisture as possible first)
Place in oven and stir every hour until the grains are dry. this could take several hours.
Grind the dried spent grains in a blend on medium-high for several minutes.
Store in an air-tight container at room temperature.
Spent Grain Waffles
2 cups all purpose flour
1-2 cups of spent grain
2 tbsp white sugar
1 tbsp baking powder
1/2 tsp baking soda
1/2 tsp salt
1-3/4 cup milk
4 tbsp vegetable oil
2 eggs
1 tsp vanilla
Directions
Heat waffle iron.
Whisk together wet ingredients.
Slowly add dry ingredients.
Add waffle batter to waffle iron in amount appropriate for the iron.
Cook following the waffle iron's instructions.