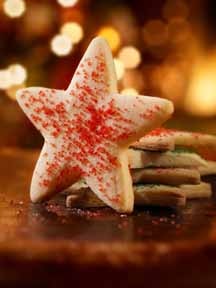 We heard that the Cookie Monster himself declared December 4 National Cookie Day in the 1980s book, the Sesame Street Dictionary. Granted, the day hasn't received national attention yet, but hey who doesn't like cookies? So our own baking-with-malt guru and AIB Certified Baker Judie decided to incorporate one of our sweetest malts into this holiday fav in honor of the day. Share the recipe with friends and post a pix of your cookies on our Facebook Page.
Malted Sugar Cookies
The small addition of Caramel 40L Malted Barley Flour provides color, flavor and whole grain.
2/3 cup softened butter
3/4 cup granulated sugar
1 teaspoon baking powder
¼ teaspoon salt
1 egg
1 tablespoon milk
1 tablespoon vanilla
1-3/4 cup all purpose flour
1/4 cup Briess Caramel 40L Malt (milled into flour)
1) In a large mixing bowl beat together the sugar and butter. Add baking powder and salt and mix until well blended. Beat in egg, milk and vanilla. Beat in flours one-fourth cup at a time.  Dough may be chilled at this point for 30 minutes if necessary.
2) On a lightly floured surface roll half of the dough one-fourth to one-eighth inch thick. Cut the dough into desired shapes. Place on ungreased cookie sheet.
3) Bake at 375 oven for 8 to 9 minutes or until edges are firm. Transfer to a wire rack to cool. If desired frost and decorate.