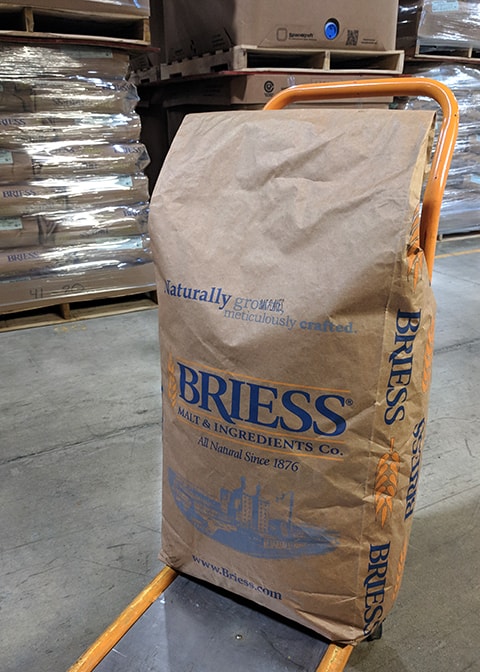 About two months ago, I was visiting with a customer in the New York City area. This account was very happy with the relationship with Briess and used quite a bit of our malt. As we were talking, I could not help but notice that they didn't use our flaked items. When I inquired as to why, I was told the reason was the bag size. At that point, Briess only offered our flaked items in 25-pound bags, and that was just not convenient for them. In my brewing career, I remember lugging a lot of 25-pound bags of Briess Brewers Red Wheat Flakes around. I certainly understood that 50-pound bags mean less trips up and down the brewhouse platform.
With this in mind, I approached Marty McIntire, our plant manager for our Insta Grains® facility in Chilton. Marty thought with our new bags, we should be able to offer a larger size. With the new bags, Marty was willing to give it a try.
I'm now happy to report that starting September 17th, Briess customers will be able to purchase our Brewer's Pre-gelatinized Flake products in 50-pound bags.
This includes with New Item numbers:
#7572 Brewers Oat Flakes 50#
#7592 Brewers Barley Flakes 50#
#7593 Brewers Brown Rice Flakes 50#
#7594 Brewers Red Wheat Flakes 50#
#7595 Brewers Rye Flakes 50#
#7596 Brewers Triticale Flakes 50#
#7597 Brewers Yellow Corn Flakes 50#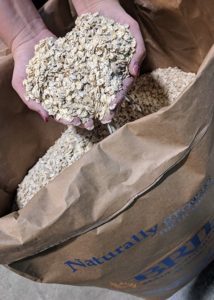 Why use our Brewers Flakes? Well, flakes are great to use in the mash because they are pre-gelatinized, so the starches are readily soluble and digestible by the naturally occurring enzymes in barley malt. They hydrate quickly and do not require milling. You don't really want to use a cereal cooker do you?
There's more good news as well. For stability purposes, we only load 40 bags to a pallet, so for the 25-pound bags that meant only 1,000 pounds. With the new 50-pound bags, we are still able to get 40 bags to a pallet meaning we can now ship 2,000 pounds of Brewers Flakes on a single pallet. We feel this package will quickly become the preferred package size, and our need for 25-pound bags will greatly diminish. Please work with your Division Manager if you foresee a long-term need for 25-pound bags. We are not discontinuing the 25-pound package, but envision demand for package declining to point that it could become a made to order custom product.
Interested in making the switch to Briess Brewers Flakes? Have a question? Feel free to reach out to your Briess Division Manager and they'll be able to help. Or just shoot me an email via our contact us webpage. Cheers, and happy brewing.