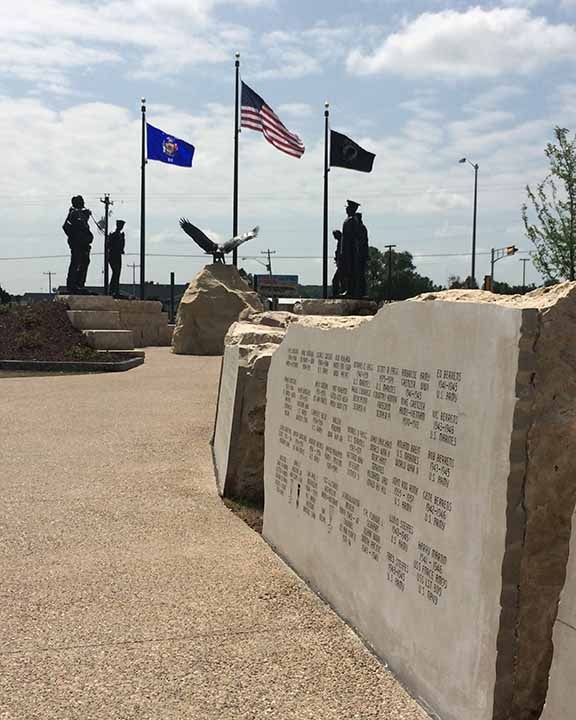 The location for a memorial to area veterans dedicated last weekend here in Chilton, WI, couldn't be better. It's in a park at the intersection of Highways 151 and 57 on the west side of town (on the same side of town as Briess). It's tough to come to Chilton and not drive past it. Which means lot of people will get to see this stunning tribute to those who have served and sacrificed for our country.
The memorial is the work of a dedicated group of local residents who developed the concept and got pretty much the entire community, businesses included, behind it. Hats off to the committee and everyone who lent a hand or dollar to make this possible.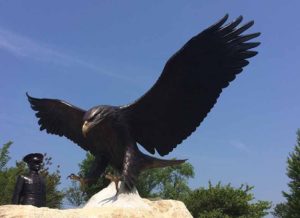 The concept was several years in the making, then designed by an architect now living in Baltimore who's a Chilton native.
The memorial has three elements. The first is a walkway lined with stones bearing the names of 444 area veterans, with room for more. The second is the berm with six life-size statues, one each for the Army, Navy, Marines, Air Force, Coast Guard/Merchant Marines and women vets. They flank a magnificent sculptured bronze eagle. The design is intended to bring the visitor into the memorial and make them feel part of it. The third is the main memorial base with three flags and bronze plaques bearing the names of all Calumet County servicemen who died serving their country.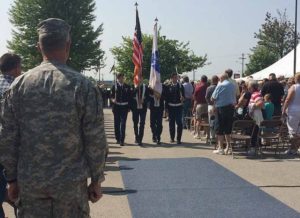 I and several other Briess employees were among the 1,000 people at this past Saturday's dedication. The Monica Briess family supported the construction of the memorial, and the names of several past and present Briess employees are etched in stone for their service.
The next time you come to Chilton you won't want to miss visiting Klinker Park and strolling through the memorial. It's within walking distance of both hotels.
Hope to see you soon!