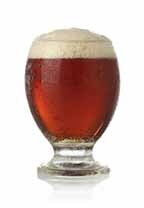 Briess Carabrown® and Caracrystal® Wheat malts had only been out for a year when Briess Tech Services Manager Bob Hansen wrote this all-grain recipe back in 2010. Selecting these two malts for this belly-warming Belgian Ale proved to be rather prophetic, because this year both have been made available as standard malts available year round. Both are 55º Lovibond, so I'm tempted to rename this recipe "Dubbel 55".
In this recipe, Caracrystal® Wheat provides a creamy sweetness while Carabrown® adds nutty, malty complexity. Using Pilsen Malt (1.2º L) as the base malt, which is very clean and light flavored, lets the flavor of the specialties come through. Briess Aromatic Malt (20ºL), a 2-Row European-style Munich Malt, adds malty backbone and Carapils® Malt is always a go-to malt for improving mouthfeel and foam.
White Labs describes WLP510 Bastogne Belgian Ale Yeast as a high gravity, Trappist style ale yeast. It produces dry beer with slight acidic finish and has more 'clean' fermentation character than WLP500 or WLP530. Not as spicy as WLP530 or WLP550. Excellent yeast for high gravity beers, Belgian ales, dubbels and trippels. It's a seasonal yeast, so if you don't want to wait until early next year to brew this beer, substitute your fave Belgian Ale yeast for now.
Extract brewers can convert this recipe by substituting the Pilsen Malt with 5 pounds of CBW® Pilsen Light LME and 1 pound of Pilsen Malt. Steep the 1 pound of Pilsen Malt with the four specialty malts at 154-158º for 30 minutes. Since CBW® Pilsen Malt is 1% Carapils® Malt, decrease Carapils® from 4 to 2 ounces before steeping the specialties. For a printer friendly version, visit the Briess Recipe Database.
Dubbel Reserve

Type: Ale
Style: Belgian Ale
Batch Size: 5 gallons
Recipe Type: All grain
Recipe Contributed By: Briess Technical Services Team
Ingredients
8 lbs—Briess Pilsen Malt
1 lb—Briess Caracrystal® Wheat Malt
1 lb—Briess Aromatic Malt
8 oz—Briess Carabrown® Malt
4 oz—Briess Carapils® Malt
1 lb—Sugar Cane—15 minute boil
1 tsp—Irish Moss—15 minute boil
1 oz—Saaz Hops (5% AA)—60 minute boil
 2 vials—WLP510 Bastogne Belgian Ale Yeast—Primary Fermentation
0.5 vial—WLP510 Bastogne Belgian Ale Yeast—Bottle conditioning
Procedures
Mash at 155-160ºF for 45 minutes
Sparge at 170ºF
Heat cane sugar in saucepan, stirring constantly until liquid and slightly browned
Add can sugar and Irish Moss as indicated
Knock out at 65ºF
Oxygenate highly
Cool to 72ºF
Oxygenate and pitch yeast
Fermentation
Primary Fermentation: 10 days at 70ºF
Secondary Fermentation: 14 days at 35ºF
Fermentation Notes: Bottle condition and age for 1 month
Stats
Original Gravity: 1.062
Final Gravity: 1.013
ABW: 5%
ABV: 6.3%
IBU: 18
Color: 18-22 SRM