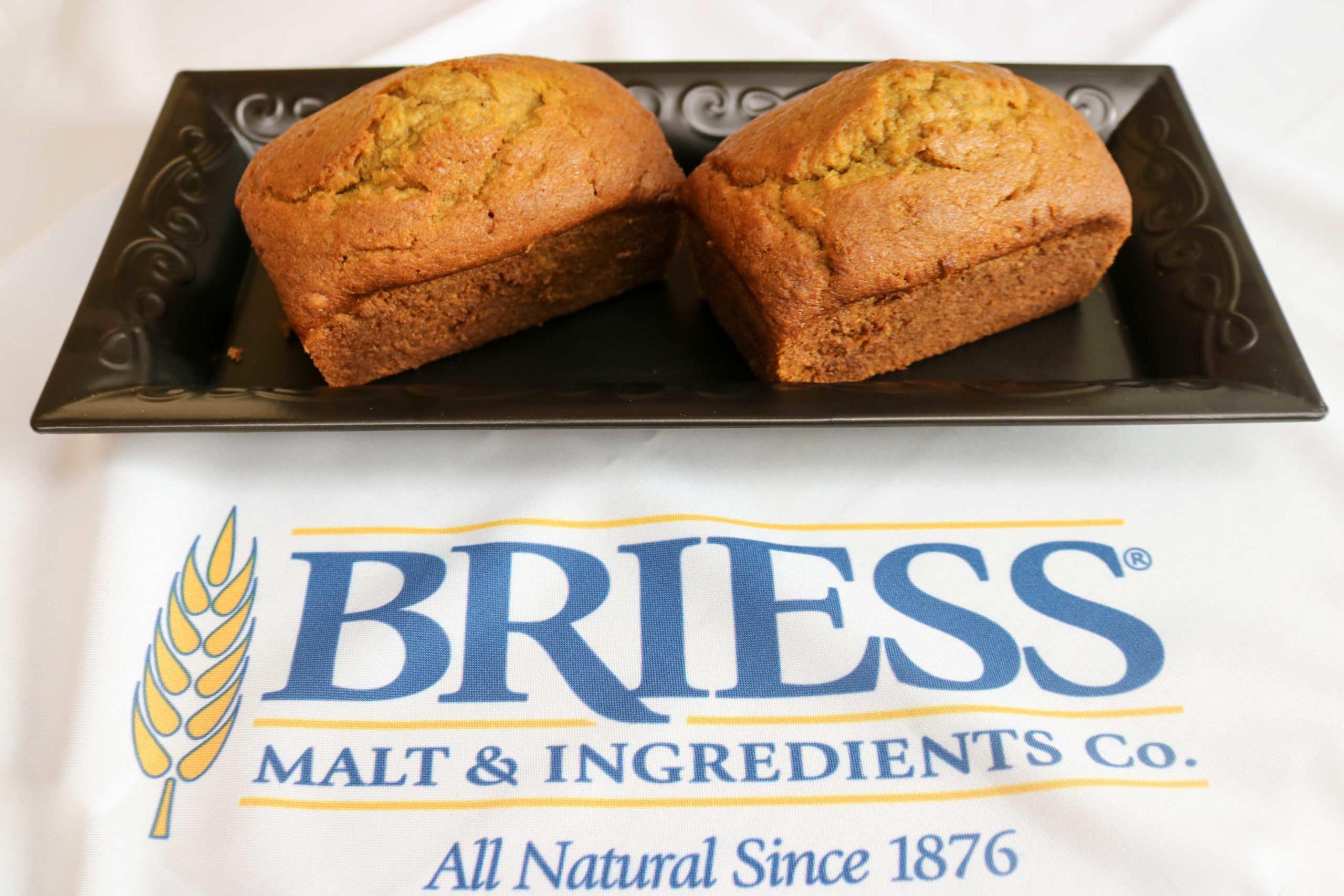 Using Briess CBW extracts to make an outstanding beer can be taken to another level by incorporating your Oktoberfest with pumpkin to create a delicious fall pumpkin bread to accompany your holiday meals.
Ingredients
2 cups (411 grams) sugar
1 cup (200 grams) safflower oil
2/3 cup ( 185 grams) Oktoberfest Beer*
¼ cup (75 grams ) honey or Briess White Grain Sorghum Syrup 60DE (WGSS 60DE)
4 large (200 grams ) eggs
1-15oz (425 grams) solid pumpkin
3 ½ cups (475 grams) All-purpose flour
2 teaspoons (11 grams) baking soda
2 teaspoons (13 grams) salt
1 teaspoon (4 grams) baking powder
1 teaspoon (4 grams) pumpkin pie spice
*Try Briess 5 gallon recipe for Oktoberfestival Beer using Briess CBW® Munich LME, CBW® Pilsen Light LME, and CBW® Pilsen Light DME
Preparation
Preheat oven to 350° and grease pans with shortening ( two 9" x 5" loaves or six mini 5 ¾" x 3 ¼" pans)
Beat sugar, safflower oil, Oktoberfest Beer, and Honey OR Briess WGSS 60DE together on medium speed until well blended.
Add 1 egg at a time beating after each addition.
Add pumpkin and beat on low speed until completely blended.
In a separate bowl whisk flour, salt, baking soda, baking powder, and pumpkin pie spice together.
Add dry flour mixture to pumpkin mixture and beat on low until just blended. Do not over mix.
Divide dough into prepared pans. Either 2 loaf pans or 6 mini pans.
Bake at 350° for 55 – 65 minutes for loaf pans or 30 – 40 minutes for mini's.
Cool bread in pans for 10 minutes. Remove from pans and cool for an additional 30 minutes before slicing.
Enjoy!