This week I had the good fortune to visit the Starbucks Reserve Roastery & Tasting Room here in Seattle and it was as wicked impressive as going to Willy Wonka's chocolate factory! (if you're a nerd for these types of things as I am) I had a nice long chat with their roasting staff and the high-end reserve coffees they are producing is very similar to what we do with our drum roasters here at Briess down even to the terminology: Maillard reaction, cyclones, afterburners, quenching wands, cooling bins, etc.
They are located in a large building in the Capitol Hill neighborhood just north of the Pike Place Market (and just down the street from Elysian Brewing Co.) that not only does roasting but has a tasting bar + full-service Tom Douglas restaurant Serious Pie with wood-fired pizza ovens. They are bringing in some beans that are sometimes so rare as to not be sold outside this location and are roasted either on their custom-made 25-pound batch Probat drum roaster or their larger customized Probat™ roaster, the G120, that does 250 pounds at a clip. All the beans here are moved around via specially designed vacuum tubes that are very gentle to keep the bean integrity. I commented to the staff about how quiet their operation was and they informed me that every piece of equipment is covered in noise suppression material to enhance the coffee drinking experience! (not so on our end)
Starbucks knows that the flavor in just roasted coffee continues to develop after roasting so they rest and de-gas the coffee in a hand-hammered copper, custom-built cask for at least eight days in order to hit its peak. Directly out of the roaster the coffee goes into the cooling bins just like we use here at Briess as the beans (or malt) will continue to ramp up in color and continue to 'cook' just like when you pull a steak off the grill. Also just like making malt the name of the game is consistency! One of the big differences between coffee and malt roasting is that they start off with a raw material that is very low in moisture so the beans are only in the roaster for less than 10 minutes unlike malt which is sometimes loaded into the roaster directly from the germination beds, we have to drive off a lot of moisture!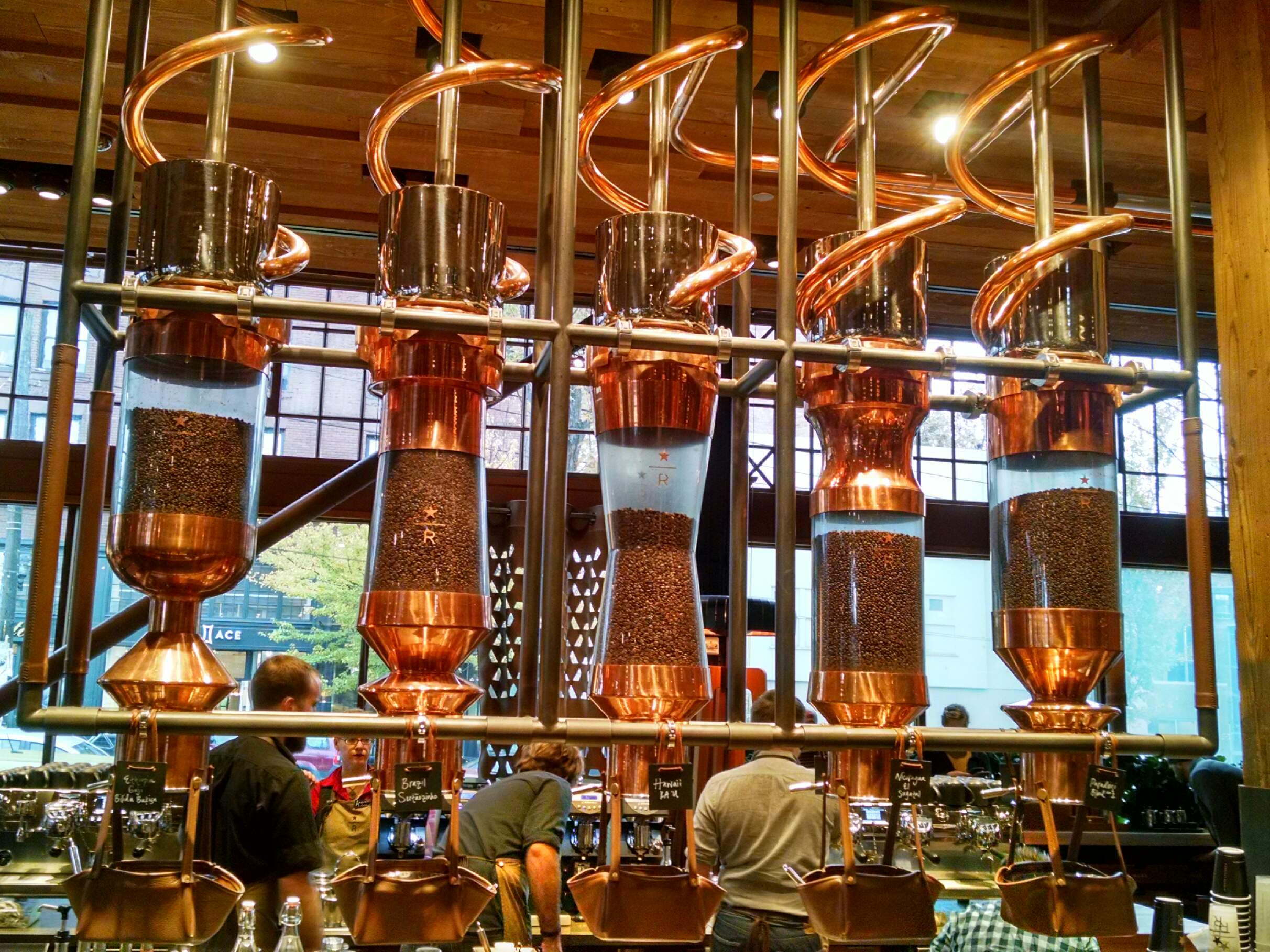 If you find yourself in Seattle I would highly recommend you stop in and do a 'taster flight' of a number of different coffees just like you do when visiting a brewery, this place is absolutely stunning. They will also make you a cup either via pour-over, Chemex, coffee press, siphon, espresso, or Clover Brewed®.
Starbucks Reserve Roastery & Tasting Room
1124 Pike St, Seattle, WA