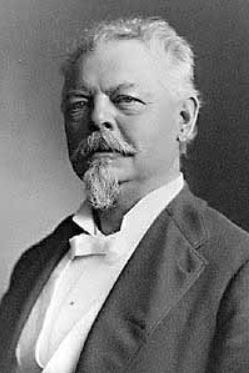 The dapper gentleman in the picture above is Captain Frederick Pabst who, as the son-in-law of the owner, bought into the Phillip Best Brewing Company (as in Milwaukee's Best beer), which opened in Milwaukee in 1844. By 1874, they were the nation's largest brewer. One of the great stories around his company is how they 'won' the 1893 World Expo in Chicago with their Pabst Best Select; Captain Frederick Pabst (aka Freddy Pabst) declared their beer "grand prize winner" even though there were a number of other beers that also received the same bronze medal. Pabst was a great marketer and upon 'winning' changed the name of his beer to Pabst Blue Ribbon. You can check out more detail on the award here.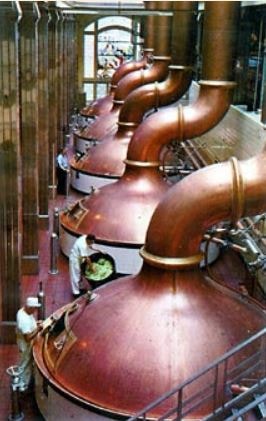 As we all know, Pabst closed the brewery in 1996 (great old pics here), and their 152-year brewing history in Milwaukee came to an end—it's now just a virtual brand being brewed in San Antonio, TX. That being said, and knowing that they peaked at 15.6 million barrels of production in 1978, the Pabst brand won Large Brewery of the Year at the 2011 and 2012 Great American Beer Festival. Next time you're knocking back a PBR with your hipster friends, give a cheers to Frederick Pabst and his historic brand; I highly recommend it, especially with a drop of hop oil!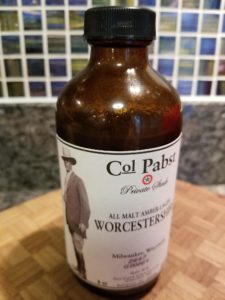 Johann Gottlieb Freidrich "Frederick" Pabst passed away on New Year's Day 1904, but had 10 children who made it into adulthood. One of the children was Gustave (1866-1943), whose great grandkids revived the Colonel's love of beer and cooking and released a fabulous Worcestershire sauce hand-made in small batches in Milwaukee, WI—using Lakefront Brewery Amber Lager as the base. The Colonel has deep roots in the brewing industry and served as the president of the U.S. Brewers' Association in 1918.
"COLONEL PABST ALL-MALT AMBER LAGER WORCESTERSHIRE SAUCE STARTS WITH A FRESH MILWAUKEE AMBER LAGER AND BLENDS IN 21 ALL-NATURAL INGREDIENTS FROM AROUND THE WORLD, INCLUDING INDIAN TAMARIND, GRENADIAN GINGER, AND MADRAS CURRY. THE SAUCE IS SMALL-BATCH BREWED, BOTTLED, AND AGED TO PERFECTION, BRINGING YOU THE MOST RICH AND FLAVORFUL WORCESTERSHIRE SAUCE ON THE MARKET TODAY. "