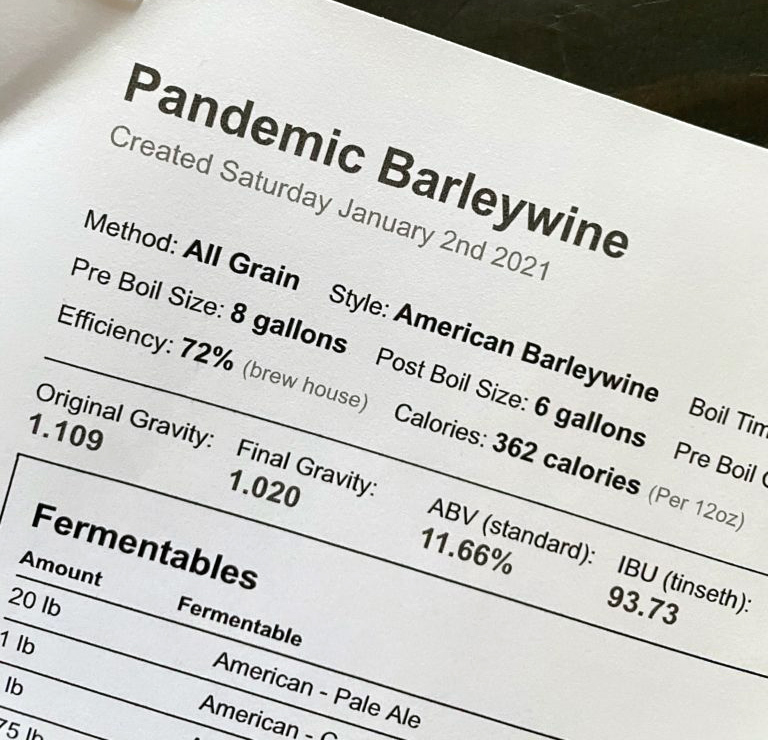 As a homebrewer, what better way is there to reflect the optimism that comes with the start of a new year than to brew a barleywine. It has always been one of my favorite beer styles. So as the year came to an end, I started looking at my favorites for some ideas – Sierra Nevada Bigfoot, Bell's Third Coast Old Ale, Troeg's Flying Mouflan, Victory's Old Horizontal (sadly no longer made), just to name a few. What was it about these beers that I loved? To me, it is the complexity of flavors – dark fruits such as raisins and figs, as well hints of caramel and toffee sweetness, balanced with assertive but not overpowering hop bitterness, some fruity esters, and of course, the warmth from the alcohol. A well-executed barleywine is a thing of beauty. Just writing this makes me want to crack open one right now.
So where to start? There is a lot of helpful info out there, including homebrewing blogs, BYO magazine articles, and YouTube videos. I decided to keep this simple. I didn't mess around with a parti-gyle brew. No double mashes or crazy long boils. This was a simple 5-gallon recipe.
For the grist I went with:
20 lbs. Briess Pale Ale Malt
1 lb. Briess Caramel Malt 60L
1 lb. Briess Caramel Malt 80L
¾ lb. Briess Carapils® Malt
I could have gone with our Brewers Malt for the majority of this recipe, but I wanted something with just a little more character for such a big beer. I have always loved our Pale Ale Malt. It has a more assertive bready and malty profile, but it retains a little bit of honey sweetness. Perfect as a base malt for a barleywine. The rest of the recipe came together pretty easily; two different caramel malts to get the layered caramel and toffee flavors, as well as some of the dried fruit notes. And since I still had some Carapils lying around from my last homebrew, I added that in for a little more body.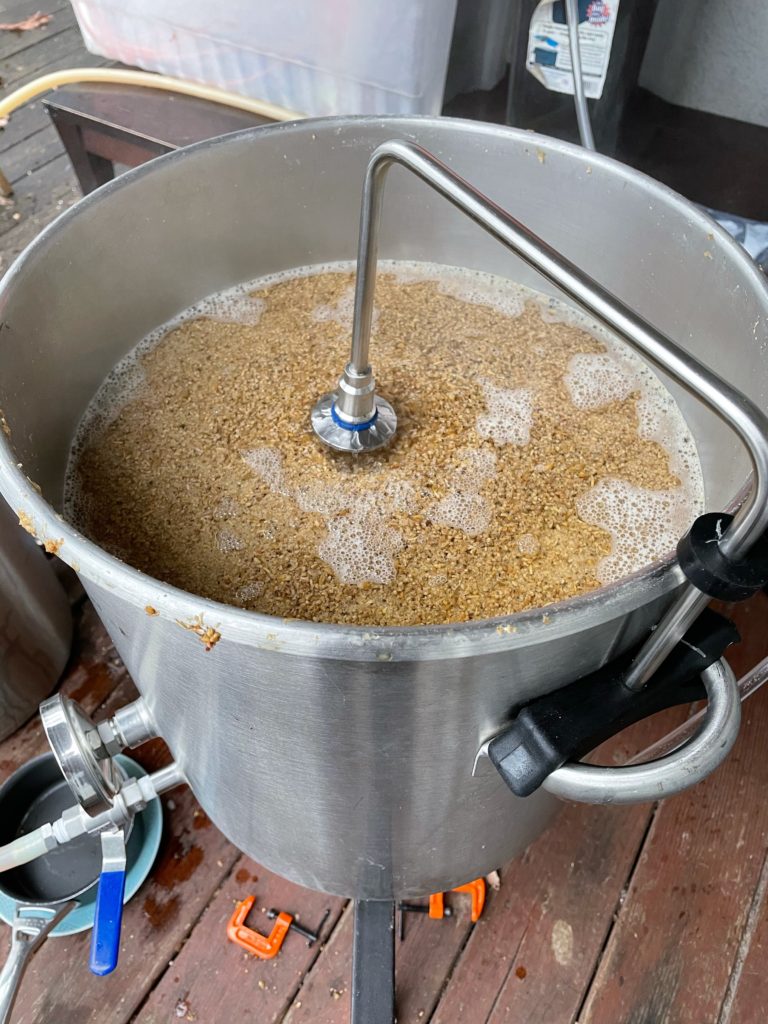 For hopping, I went with a pair of classic American hops from the Pacific Northwest – Chinook and Centennial. Centennial is a great all-purpose hop – wonderful aroma and plenty of alpha-acids for bittering. I spread out the hop additions throughout the boil. After fermentation (still going one week later), I'll dry-hop with more Chinook and Centennial.
For yeast, I let my buddy Sean at Original Gravity Homebrew Supplies make the call. I told him to "pick me a winner." He came back from the refrigerator with a pack of PurePitch® San Diego Super Yeast from White Labs (WLP090). About a week before brewing, I used some Briess CBW® Pilsen Light dried malt extract to make a starter. I followed the directions from White Labs for the starter, and a few days later stepped it up again. By brew day I had a nice sizeable yeast slurry going for my barleywine.
To me, there are some key factors to making a bigger beer such as a barleywine:
A thick mash (I did about 1.5 quarts/pound).
Minimal Sparge – really want to avoid diluting the wort too much.
pH – my initial pH was a little high, but with a small addition of lactic acid, I was able to bring it down to about 5.3.
Mash Temperature – I wanted to go for about 147°F, but it was a pretty cold day. I held it at 145°F for an hour or so which should encourage a little more fermentability, then heated it to 168°F before lautering.
Healthy Yeast – As I previously mentioned, you need to pitch a good deal more yeast than with a lower gravity beer. You will want to use multiple yeast packs or make a starter; an addition of yeast nutrient is a necessity as well. Proper oxygenation is also important for getting a difficult fermentation started. I used an aeration stone and a small canister of oxygen.
Long-Boil – I boiled for 90 minutes. This helps concentrate the wort to achieve a higher gravity and adds some additional caramelization.
At the end of the day, I wound up with 5 gallons at 1.090 specific gravity. I have it fermenting at 65°F, and so far it looks and smells promising. I sure am looking forward to trying the Pandemic Barleywine. I mean, what else could I call it?