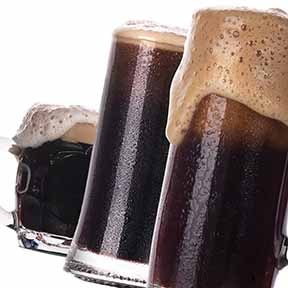 In anticipation of the Craft Brewers Conference, I took a trip down memory lane and pulled this gem from our recipe database. It's real name is Sierra Nevada Black Vapor, and it was brewed for the 2011 CBC on the Sierra Nevada 10bbl pilot brewery with our then-new Midnight Wheat Malt. Check out Dave Richter's blog about the experience. Dave is Division Manager-West. He developed the recipe and participated in the brew. Lucky dog.
This "steam" style hybrid beer was a nod to the rich brewing heritage at Anchor Brewing Co., though with a twist by darkening up this style with Midnight Wheat malt. The original recipe called for 2 pounds of an experimental hops at the end of the boil, and lager yeast from the Sierra yeast bank. Be creative and add your personal touch to this recipe when selecting substitutes.
Sierra Nevada Black Vapor a commercial size batch lager, but by running some numbers you can calculate a homebrew batch using all grains or extract with grains. Not up to brewing a lager?  Then try Midnight Wheat Malt (or Blackprinz® Malt) in any recipe calling for debittered black malt. Midnight Wheat Malt and Blackprinz® Malts can be used as 1:1 substitutes for debittered black malt. Or try them in any style that would benefit from color, slight roasted flavor and no bitterness or dry astringency. How can we call these malts bitterless? Read about it here.
Happy brewing and I hope to see you at ths year's CBC. Cheers!
Sierra Nevada Black Vapor

Type: Lager
Batch Size: Commercial
Recipe Type: All grain
Recipe Contributed By: Dave Richter, Briess Malt & Ingredients Co. and Scott Jennings, brewer with Sierra Nevada Brewing Co.
Ingredients
420 lbs—Briess Pilsen Malt
50 lbs—Briess Caramel Malt 40L
25 lbs—Bonlander® Munich Malt
32 lbs—Briess Midnight Wheat Malt
1 lb—US Magnum Hops—Boil 90 minutes
1.5 lbs—Northern Brewer Hops—Boil 60 minutes
1.5 lbs—Northern Brewer Hops—Boil 15 minutes
2 lbs—Hops of your choice—End boil
Lager yeast of your choice
Procedures
Mash at 154ºF for 45 minutes
Sparge at 170ºF for 75 minutes, 90-minute collection time.
Knock out at 52ºF.
Ferment at 60ºF.
Stats
Original Gravity: 13.2 Plato
Final Gravity: 3.5 Plato
Alcohol by Volume: 5.0%
IBU: 38
Color: 54 SRM, Dark Ruby Brown