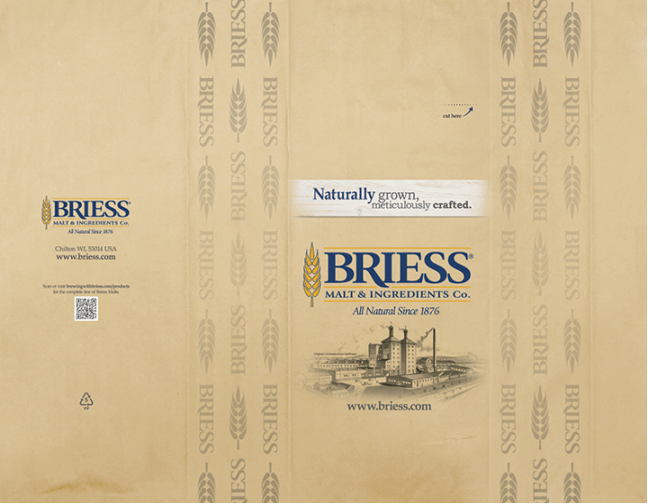 You spoke. We heard. So beginning this summer those iconic brown paper bags of Briess malt will start fading into the sunset as new laminated, woven polypropylene bags take their place.
The new bags meet two key criteria — they had to be durable and they had to be recyclable. The criteria "wish list" was developed based on ongoing customer feedback about breakage and tearing problems associated with the paper bags. A survey further confirmed that brewers want recyclable bags, but durability was even more important to decrease product loss.
"It wasn't an easy decision to change our bags, and thus a little bit of our image," said Ryan O'Toole, Briess Vice President of Operations. "And it wasn't taken lightly."
"The decision is reminiscent of similar choices in life, like finally moving on from your favorite pair of jeans. At some point it becomes necessary. We listened to feedback from our customers and friends, and felt it was time to make a change for the better. The new bags will help us continue our tradition of sustainable, environmentally-friendly business practices, and also ensures that product arrives to our customers in the same great condition in which it left."
After researching and testing a variety of bags, a laminated, woven polypropylene bag was chosen. It offers a list of benefits to brewers:
Strong polypropylene resists punctures and tears.
Recyclable as #5 plastic.
Cut bags open with a utility knife. Because the bag is laminated, the cut is clean and won't shred.
Pallet size and weight remain unchanged.
Water resistant.
Pallets will continue to be shrink-wrapped and the bottom of the pallet stabilized with a corrugated wrap around.
Bags offer similar slip resistance as the paper bags, so slippage should be minimal.
Briess customers will begin receiving new bags this summer. Initially all whole kernel malts will be packaged in the new bag. Plans to extend it to preground malts and brewers flakes are underway. Don't hesitate to contact your Briess Division Manager or Briess directly at info@brewingwithbriess.com with your questions or for more information.