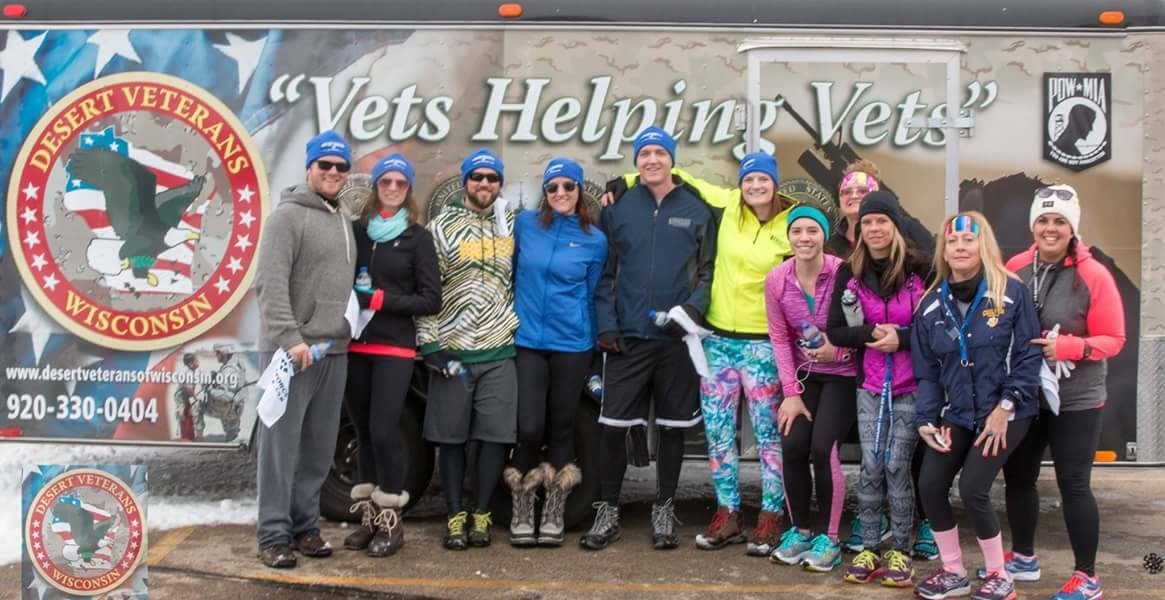 January 30th was a surprisingly warm day, considering the frigid cold winters Wisconsin is known for. As first-time participants of the 5th Annual Winter Warrior 5K Run/Walk/Snowshoe event, we probably got off a little easy! I think we all appreciated this, since the course was challenging, zigzagging up and down the rolling hills of Mid Valley Golf Course in DePere, WI. We climbed a series of icy berms with deep swales of snow at the bottom.
In good sport, snowballs were thrown at us from white covered hills. As we neared the finish line we decided to sprint to the end, where there was a crowd cheering on the runners and music blasting. After the event, our team posed for a few photos and talked with members of the Desert Veterans of Wisconsin, which all proceeds of the 5k went to benefit.
The Desert Veterans of Wisconsin is comprised of Veterans and military personnel who received an honorable discharge or are currently serving in any military branch. It is an organization of "Vets helping other Vets" and strives to create a social atmosphere that encourages Veterans and military personnel to address issues and continue serving their communities any way they can.
Briess sponsored our team of runners, which was personally rewarding as my husband, Jason, just got back from the Middle East in 2015. This winter, Jason honorably separated from the military and has started the next chapter of his life working at Briess as a Logistics Associate. It's also important to me because my father served in the Gulf War in the late 80's and early 90's. Now, the two of us look for ways to help our local vets and are thankful to have an employer who supports these initiatives.
From the employees of Briess, we would like thank Briess for sponsoring our registration to events like the Winter Warrior 5K Run/Walk/Snowshoe that support local organizations, such as the Desert Veterans of Wisconsin, and are wonderful causes that are close to home.
Amber Ader, Jason Ader, Lisa Manz. Jordon Guerts, and Cassie Liscomb