The Hot Steep Method is a standardized wort preparation method that I developed for malt sensory evaluation at Briess Malt & Ingredients Co. in late 2015. In early 2016, the method was validated by the American Society of Brewing Chemists Sensory Technical Subcommittee. By mid-2016, the written method — co-authored by Lindsay Barr (Sensory Specialist at New Belgium Brewing Co. and Co-Founder at DraughtLab) and me — was approved for inclusion in the ASBC Methods of Analysis under the title Sensory Analysis 14 Hot Steep Malt Sensory Evaluation Method.

In the few years that the Hot Steep Method has been in existence, I have had the opportunity to educate thousands of industry stakeholders on how to perform it. My favorite format to teach this method is through hands-on workshops, where participants perform the method for themselves. Approaching the teaching in this way, I have learned to appreciate the importance of simplicity. Though the ASBC method that Lindsay and I co-authored is quite simple relative to other scientific methods, it can be intimidating for someone who is not experienced in laboratory practices.
Here, I will break down the Hot Steep Method to its simplest form using common language. I suggest following these step-by-step instructions when trying this method the first few times. Once you feel comfortable and experienced, the ASBC method will not seem one bit intimidating!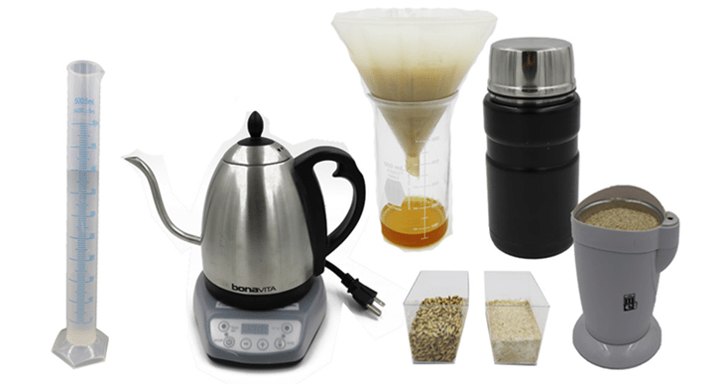 Supplies:
Whole kernel malt
Distilled water
Thermos®, insulated, stainless steel, 24-ounce volume
Electric Water Kettle, capable of heating water to 65°C/149°F
Funnel, plastic, short stem, 16 cm in diameter or similar
Filter paper, fluted, 32 cm in diameter (Ahlstrom No. 515 or similar*)
Electric Grinder, 3-ounce volume, 200-watt (KRUPS F203 or similar)
Collection vessel, tall, 600 mL volume
Graduated cylinder, 500 mL volume
Analytical balance, capable of weighing 50.0 g (± 0.1 g)
Weigh boat, plastic, capable of holding 52 g of whole kernel malt
Minute timer
Stations:
Malt weighing and milling = whole kernel malt, electric grinder, analytical balance
Water heating and measuring = distilled water, electric water kettle, graduated cylinder
Home base = Thermos®, funnel, filter paper, collection vessel, minute timer
Step-by-step instructions:
Take Thermos® and weigh boat to malt weighing and milling station. Add approximately 52 grams of whole kernel malt to weigh boat. Pour whole kernel malt into electric grinder and mill for 10 seconds. Pour milled malt back into weigh boat. Measure 50.0 grams of milled malt and pour into Thermos®.**
Take Thermos® (containing 50.0 grams of milled malt) to water heating and measuring station. Pour 400 mL of 65°C/149°F water into Thermos®. Immediately cap and shake Thermos® for 20 seconds. Take Thermos® back to home base, start 15-minute timer, and let Thermos® sit until timer ends.  
While 15 minute-timer is running, assemble filtration apparatus: place funnel over collection vessel, unfold filter paper and rest inside funnel.
When 15-minute timer ends, shake Thermos® vigorously for 20 seconds. Uncap Thermos®, hold edges of filter paper down with hand to press it firmly into funnel, and quickly pour entire contents of Thermos® into filter paper. Allow 100 mL of wort to collect.
Once 100 mL of liquid has been collected, pour back into the Thermos®, swirl to collect any solids that remain inside, and pour liquid back into the filter paper.
*For a more affordable option, use Hario V60 Coffee Filter Paper. The filtration rate will be significantly slower, but the cost savings may justify the added time.
** The amount of milled malt added to the Thermos® depends on malt style, but will always equal 50.0 g. For base malts, add 50.0 g to Thermos®. For specialty malts, add 25.0 g + 25.0 g of milled base malt to Thermos®. For dark roasted specialty malts, add 7.5 g + 42.5 g of milled base malt to Thermos®.