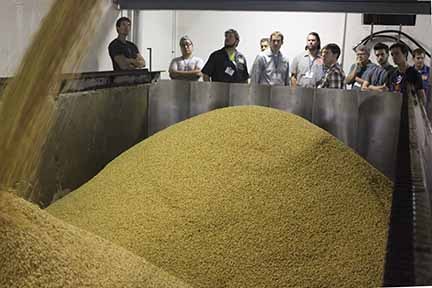 Special thanks from the entire crew at Briess to the 43 craft beer professionals and speakers who participated in the recent third annual Briess Malt & Brew Workshop.
This two-day event is definitely specialty malt-centric, with technical presentations and indepth tours of the malthouse, roasters and 500bbl brewhouse. In addition to talks by Briess staff, the workshop featured guest speakers Mark Carpenter of Anchor Steam Brewing Co., Joe Hertrich, retired AB, and Jason Perkins of Allagash Brewing Co. who shared their experiences and craft beer knowledge with the group.
There was also time for networking and good times, and we're already looking forward to the 2014 workshop. Dates TBD. In the meantime, here are scenes from the 2013 workshop. Thanks again to our visitors for spending time immersed with us in the world of specialty malts. The pleasure was all truly all ours.