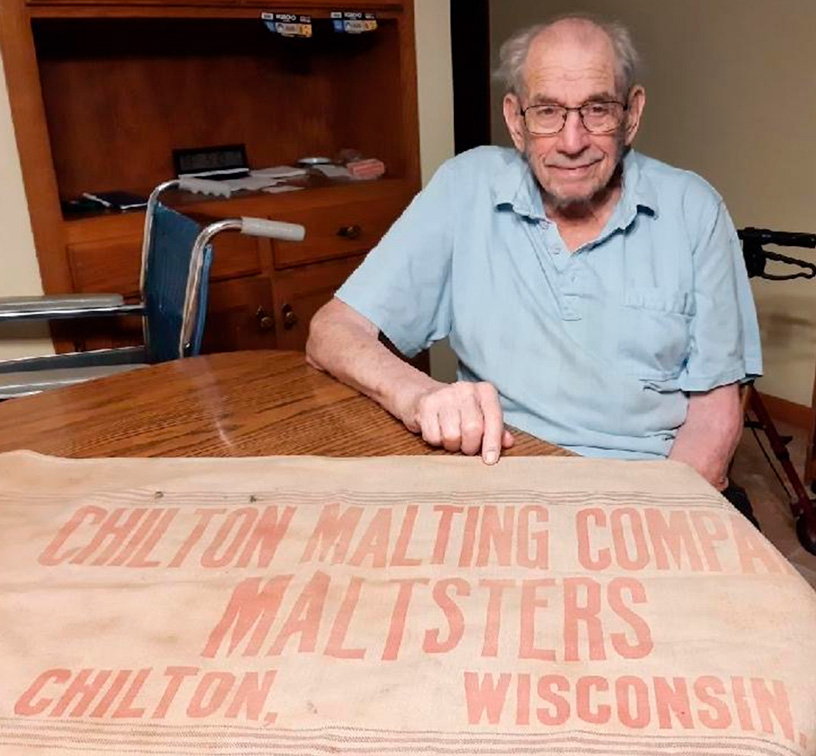 At Briess, employees are considered and treated like valued family members, and it rings true well beyond its five generations of family ownership and leadership. There have been many family members who have worked at the company across multi-generations. Briess' Malting Technician, Josh Kasper, sat down to discuss one of these instances with his grandfather, Eloy Kasper, who started his career at the Chilton Malting Company over 70 years ago. (Noted later, Briess acquired Chilton Malting Company in 1978.)
Eloy Kasper was born November 5, 1920. That's right, Eloy recently celebrated his 102nd birthday! At the time of his birth, the local malthouse in his hometown of Chilton, WI, had already been standing for 19 years (built in 1901) and was surviving its ninth month of alcohol prohibition in the United States. By Eloy's 19th birthday, Germany's invasion of Poland, and the subsequent response in Europe, brought the start of World War II. Eloy joined the Army for two years in the war effort with the United States involvement. The malthouse survived prohibition; Eloy survived the war.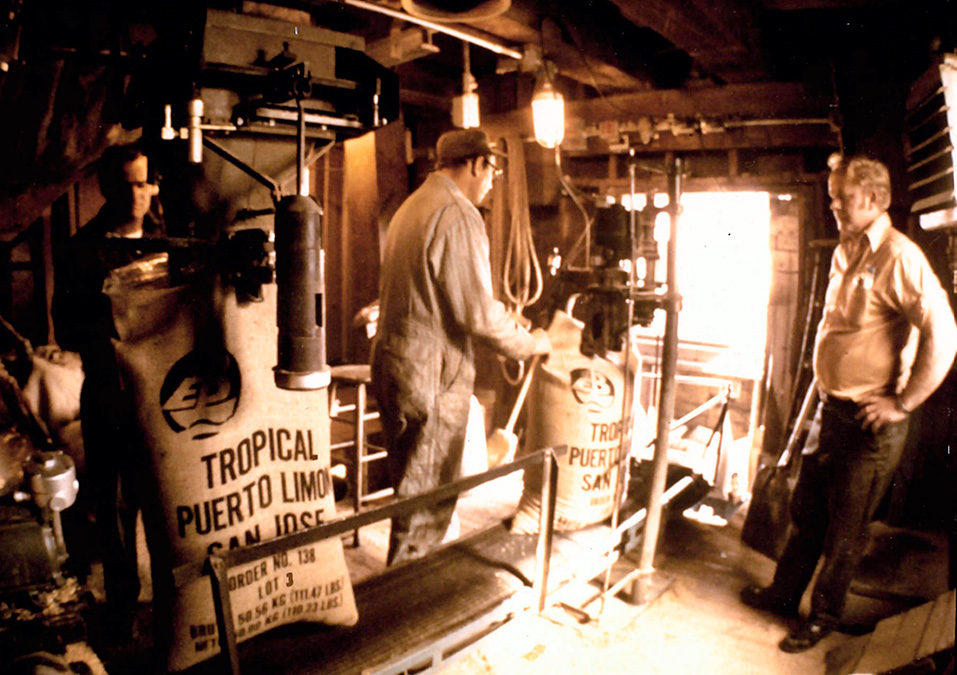 In 1952, Eloy began his career at the Chilton Malting Company which had recently established a business relationship with third-generation maltster, Eric Briess. Prior to working at the malthouse, Eloy had helped supply coal to power the malthouse. "See actually, I already worked in the coal area about a little over a year before I went down to the [malthouse] elevator. They had their own plant. They had a big engine in there, the back room. They had their own malt power," stated Eloy. When he got the job at the Chilton Malthouse, it was a good thing; hourly pay was $1.40 per hour and was considered some of the best pay in the area.
Eloy was humble in describing his role while at the malthouse. "See, my job was to sew bags closed and that's about all I did." As his grandson, Josh probed further. They spoke of a time without automation and Eloy commented, "One guy did the filling, and I did the sewing, and then it went down to a boxcar and to the guys there". This was no simple task: bags of malt were filled to 50kg (110 lbs.), carefully stitched, carried on a short belt, dropped into a chute for a crew to load on their shoulders, then finally stacked into a rail boxcar. Each boxcar would hold 600 to 1,000 bags. On a good day, two boxcars could be loaded. Today, it's a very different scene in our Manitowoc, WI, malthouse, where you'll see robotic stacked pallets, automated wrapping machines, and electric forklifts used in the bagging process.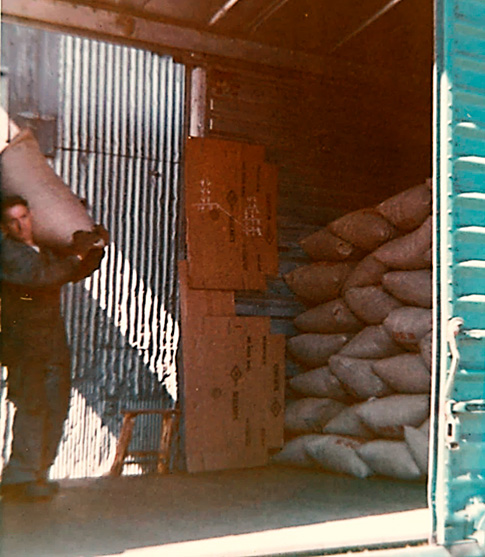 Eloy spoke of a time when the company only had 18 employees and the union contract allowed one beer per break. "See, when we went on break, we always had free beer and soda, but you know what, the soda always went first." During Josh and Eloy's conversations, they spoke of the changes he saw happen over 30 years, which started with tying bags by hand in the elements, to stitching them in a space without a roof. "At first, all we had was that elevator, they had nothing over it. When it rained, we had nowhere to get out of the rain…. you have to laugh because we tied the bags by hand. Then they went down the shoot to the guys [loading] the boxcars."
Naturally, there were several changes throughout the years of Eloy's time at Briess to the present day. One change that took place inside the malthouse was that originally four employees were required to unload a germinated malt bed, then eventually it became a job for one. Until the 1970s, four "K-ball" roasters were roasting 600 lbs. of roasted caramel malt, per batch, which were later replaced by larger and more efficient drum roasters. Near the end of his career, the Briess family fully acquired the Chilton Malting Company, in 1978, with fourth-generation owner Roger Briess at the helm. Eloy spoke fondly of Roger, "At work, we saw him often [in the plant]. He was smart, he knew five or six different languages." Eloy highlighted the workplace camaraderie and get togethers at the malthouse over the years.
After 30 years of working at the malthouse, alongside running the family farm (always using his vacation days to farm), Eloy retired in 1982. Eloy and his wife, Dolores, spent their retirement traveling across the country and abroad. Eloy still resides in Chilton today, asking about the malthouses and the company whenever his grandson stops by. Josh, in his seventh year as a Briess team member, has held roles in both malthouse operations and quality control at the same malthouse where Eloy worked. Josh's current role is a Malting Technician at the Manitowoc Malt Plant, where he assists in day-to-day quality assurance and technical projects. The Kasper family is one of many that have helped build the Briess business it is today.
Cheers to 102 years, Eloy!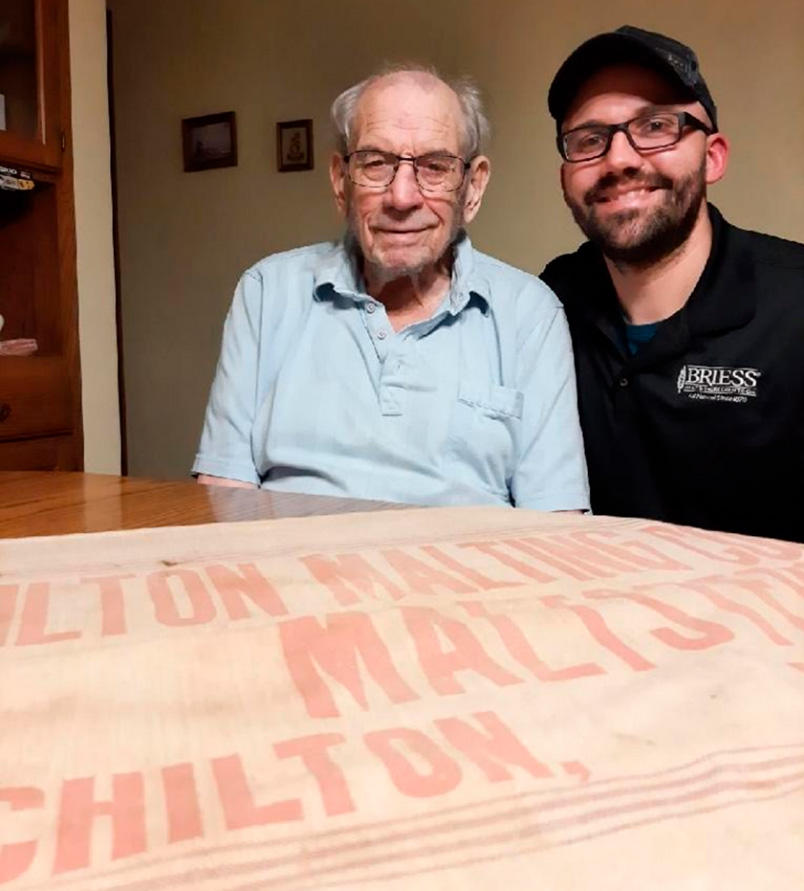 Interview and Photography Credit: Josh Kasper, Malting Technician, Manitowoc Malt Plant
Interview Transcription Credit: Erika Flores, Quality Assurance Technical Associate, InstaGrains Plant