Craft Beer from its infancy was built upon collaboration, often tested by both nature and economic cycles. In recent years, regional calamities — such as fires in California and Australia — have become more frequent, repeatedly challenging the resolve of Craft Brewers to grow and innovate. It should come as no surprise that the current COVID-19 outbreak and resulting economic challenges have again brought our Craft Beer community together to support out-of-work hospitality staff, struggling families, and breweries. Other Half Brewing, therefore, became inspired to create the All Together IPA recipe, available to any brewer internationally.
As you may know, if you use the recipe and the label designed by Stout Collective, Other Half asks only that a portion of the proceeds goes to struggling hospitality professionals local to each participating brewery and "the rest should go to keeping you in business to weather this storm." Regarding label use, "there are two template sizes, 7.5" x 3.625″ (12oz) and 7.5"x5" (16oz). We are asking everyone to use the same design template, with a portion of the label being open for your own art — illustration, pattern, photography, anything."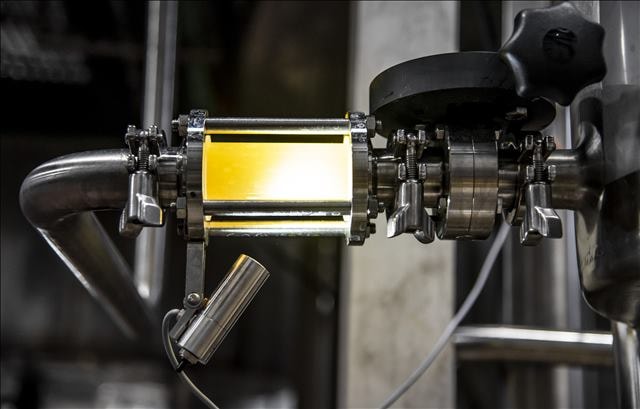 It was none other than Sam Richardson, Matt Monahan, and Andrew Burman founders of Other Half Brewing who created this project. They have always been focused on the community, giving back and collaborating with many over the years. Being located in the hardest-hit area of the country — Brooklyn, New York — they are seeing firsthand the devastation and hardships and were inspired to create this charitable project to support their communities and the craft beer family they love. After our East Coast Brew Division Manager Mike Killilea reached out to offer assistance, we realized there was a tangible way to assist by supplying FREE Briess Carapils® and providing special offers for other ingredients in the grain bill. Contact your Briess Division Manager for details.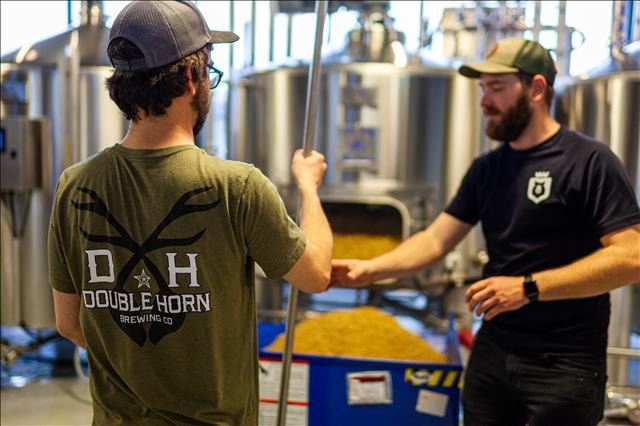 Upon hearing of the All Together Beer event, Founder Andrew Fabry and Co-Founder Sam Yanda of Badger State Brewing quickly began thinking how they would continue their "Pay It Forward" philosophy. They joined the project, pledging proceeds to a handful of organizations in the Greater Green Bay and Fox Valley areas. Mike Illig, Briess Central Division Manager, and Andrew spoke together at length about the All Together Beer program, use of Briess CaraPils®, and how it was Badger State Brewing's desire to commit to ongoing relief throughout the remainder of 2020. Badger State chose to focus on the Hazy side, using a generous dose Simcoe, Centennial, Cascade, Mosaic, and Citra hops.
Double Horn Brewing Company, the first Brewery in Burnet County, in Marble Falls Texas, along with their All Together brew partner Bear King Brewing, have long been involved in building bridges and fostering a sense of community. Little did they know this spirit would occupy a great deal of their time during Spring 2020, and All Together would become the largest charity event they've ever been involved in. Although both Bear King and Double Horn have been hard hit just as many of their peers, Bear King's assistant brewer, Kael Brannan, decided to approach JD Guidry of Bear King. Both Brewers decided to adjust the All Together recipe and brew with their on-hand base Malt and Briess CaraPils®.
"After learning about the All Together IPA, we looked for a local charity that serves hospitality workers in our area, but one didn't exist," said Grant Guidry, co-owner of Bear King Brewing Company. "This led the High Lakes Crisis Network (HLCN) to form a separate entity under its umbrella to focus solely on supporting service industry workers in our community. Bear King and Double Horn are proud to donate 100% of the profits from sales of the All Together IPA to them."
Our brewing friends from McFleshman's Brewing Co. and Appleton Beer Factory in Wisconsin also chose to join the movement and brew their own version of All Together in the form of a NEIPA with $4 from every six-pack going to the Restaurant Employee Relief Fund.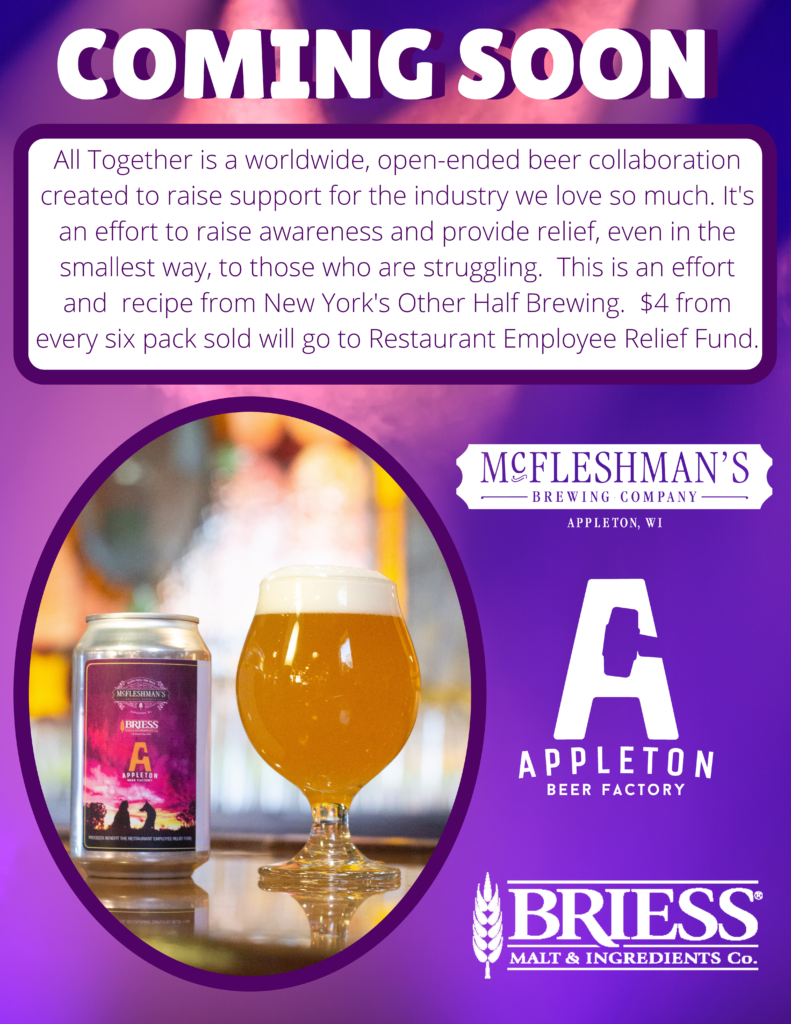 A full list of participating breweries can be found by scrolling down on the landing page of the All Together Beer site. Let's take a moment and raise our glasses to all those in the craft brewing family coming together to support those in need!