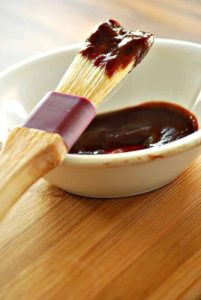 To many of us, BBQ is synonymous with Labor Day Weekend. That's when grills and smokers across America will be given a three-day workout as grillmasters turn out platters of burgers, brats, beer can chicken, ribs and pulled pork. But before you reach for a bottle of prepared BBQ Sauce to slather on those ribs, consider making a batch from scratch.
For sweetness, this sweet 'n' savory recipe relies upon an ingredient Briess developed for brewing gluten free beer, BriesSweet™ White Sorghum Syrup. Briess sorghum syrup is made from the grain of the sorghum plant, which has a carbohydrate profile very similar to malt extracts. That's different than all other sorghum syrups being used commercially or available at retail, which are made from the cane of the sorghum plant. They have a different carbohydrate profile and different flavor, and function differently in applications like brewing and baking.
I like the Briess sorghum syrup in BBQ sauce for its flavor and thickness. It's also non-GMO, a nice natural alternative to corn syrup. This BBQ recipe won't take hours to make, and needs only seven ingredients. Hope you enjoy it and have a safe and fun Labor Day Weekend!
Sweet 'n' Savory Sorghum BBQ Sauce
3/4 cup—BriesSweet™ White Sorghum Syrup
1/2 cup—Ketchup
1/4 cup—Worcestershire Sauce
1/4—Yellow Mustard
1 tsp— Chili Powder
2 tsp—Onion Powder (I like McCormick's CA Style)
1/4 – 1/2 tsp—Tabasco Sauce
Directions
Stir all ingredients together
Bring to a boil on medium heat
Reduce heat and simmer 15 minutes
Refrigerate leftovers